Improving Your Darkroom Editing Experience
We've been busy since last summer: 6 major feature releases (macOS support, ProRAW, Flag & Reject, Clarity, Shortcuts Automation, and Grain Rebuild), and ten smaller updates. Behind the scenes, we grew the team and invested heavily in our technical infrastructure and processes as a company, while also working on exciting new features that aren't ready to be released just yet.
At the end of the day however, none of that is more important than the core promise of Darkroom: a fast, seamless, beautiful, and powerful photo and video editing experience.
Sustainable, long-term businesses operate a little bit like gardens. There are periods of growth, but there are also periods to clean-up to get the app ready for another season of growth, and that's exactly what today's update is all about.
For the past 7 weeks, we paused all new feature work as we made our way through the list of frequently reported paper-cuts, and any rough edges in the Darkroom experience. If you're an active Darkroom editor, you should read this extensive list that we normally don't share in our release post, hopefully it'll make you happy. Don't miss the extra at the end!
---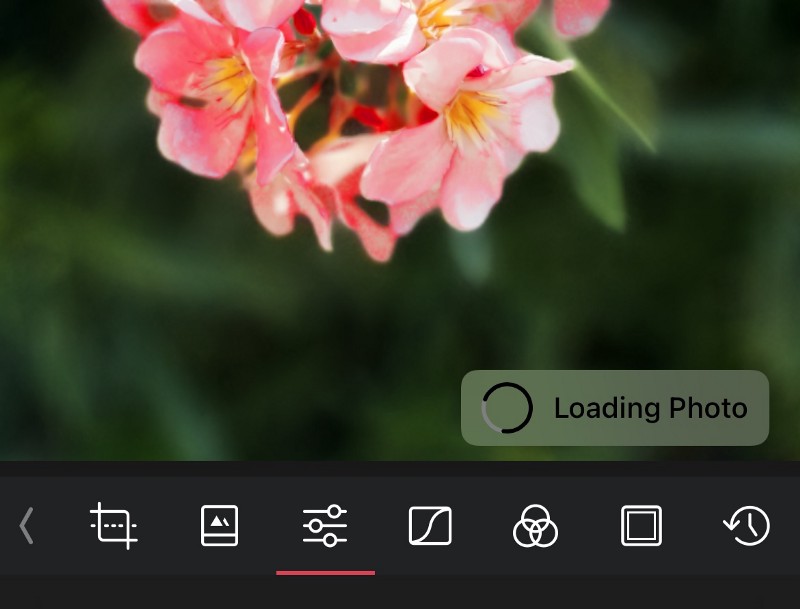 Image Loading
We rebuilt our image loading and generation infrastructure to provide faster image delivery, more accurate results, and improve reliability. This will impact your experience navigating through the app, resulting in a faster and a smoother editing, viewing and navigation experience.
We also updated image loading and prefetching so that you don't see low-resolution images unnecessarily, particularly when switching quickly between two photos, leading to a more consistently high-quality viewing experience.
And as part of our previous 5.5 release we improved the loading indicators when viewing a photo to now make an explicit difference between "loading" data locally from storage, and "downloading" data from iCloud.
Additional improvement we made:
When editing a photo, we now pause library work that might interrupt your interaction with the sliders.
All image views in the app now share the same image provider, ensuring they're all up to date, share resources, and are fast/reliable.
Fixes issues where images got stuck loading forever.
Fixes issues that caused thumbnails to be blurry in the grid after editing.
Fixes rendering glitches when backgrounding the app quickly while editing.
We use a lot less memory in our caching layer, ensuring sliders stay responsive and stable.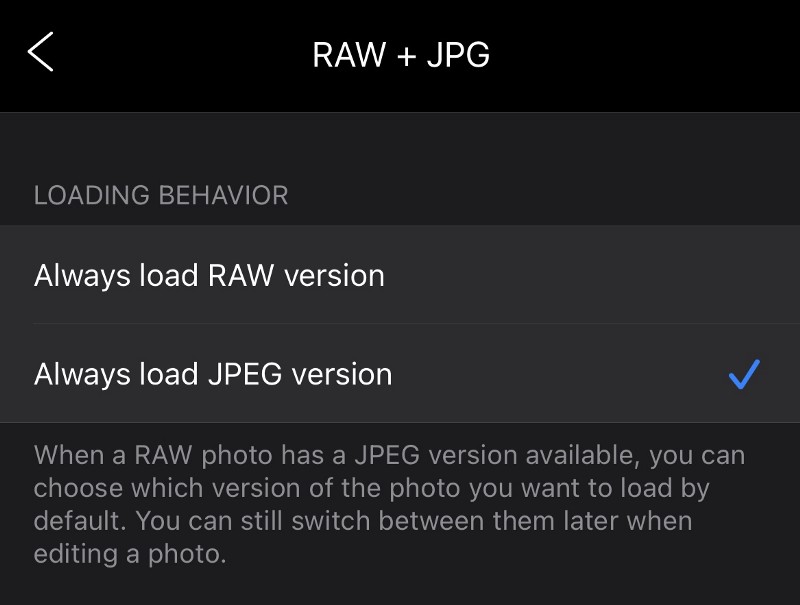 RAW + JPG Photos
We got a lot of feedback about the default confirmation dialog when switching from JPEG to RAW versions, so we added a new setting to define what version you want to load by default. This allows us to skip asking you every time if you want to change the default when switching.
Fixed an issue that could cause the RAW photos to appear too small, and JPEGs to show visual glitches when switching between the two.
Fixed an issue that could cause RAW photos to display their dark regions too brightly.
The photo badge when viewing or editing the photo now properly reflects whether the RAW or JPG asset was loaded.
Crop & Transform
Crop is one of our most used tools, but also was one that had quite some rough edges. In our previous update we already addressed 8 issues to make it more reliable, but we felt we could do even better so put in the effort to address the below issues.
Fixes a bug where cropped and/or framed images would stretch if you open the Crop Tool.
Improved crop aspect ratio option by making the selection of the "As Shot" and "Free" options sticky across edit sessions.
Fixed an issue that caused crop corner controls to not properly settle on the edges if moving quickly past an edge.
Fixed an issue that caused crop controls to not respond if your drag gesture was slow to start moving.
Fixed a rare issue that could cause the crop controls to disappear!
When cropping, we now disable the gesture to dismiss the tools, which could get in your way of cropping.
Fixed a lot of alignment and visual layout issues with the Transform tool.
Photos App Extension
Over the past couple of releases we have worked hard to improve memory consumption in our app in general, and our Photos Extension in particular when using the Grain slider, as well as when entering into the photo extension multiple times.
Unfortunately the Clarity slider is still using too much memory and causing the photo extension to crash, so we decided for now to removed it from the Photos Extension until we can address its memory use.
Exporting
When you are exporting, we now pause all other image processing to speed up the export, and provide it as much memory as possible.
We now re-use a lot more memory between editing and export, reducing the memory load of the app, and ensuring exporting jobs always have the memory it needs to finish their job.
On iPhone, during export, the interface no longer adjusts to device rotation, which helps reduce memory usage and improves stability and reliability of exports.
Video
Improved HDR video export by ensuring it now exports to SDR with the correct colors. When we support end-to-end HDR editing & exporting, we will re-enable HDR exports.
Fix a bug where exporting 4K videos with a frame applied would crash.
Fixed double-clicking on the video play/pause controls causing you to zoom in or out of the video.
Fixed an issue that cause a video to not start playing if navigated to using the photo strip.
When a video is updating its thumbnails in the library, we now hide the time badge so it doesn't overlap the progress indicator.
Improved the performance of video thumbnails by optimizing the size and how/when we fetch them.
UI Improvements
If the app interface is fully hidden (by tapping on the image to view it full-screen), we now allow you to swipe to dismiss to go back to the library.
On iPhone, the top action bar when editing a photo now always shows in black to reduce visual distractions and visually blend with the notch. And will transition to the overall interface theme color when the tools are collapsed. We also made sure to tweak the action bar to better space the action with the different width notches.
Improved the Flag & Reject bar when swiping to reveal it when also having the edit tools open, now this won't force the edit tools to collapse, but the Flag & Reject bar will auto collapse after using them. This way you have a quick way to flag or reject. We also fixed several small layout issues with the Flag & Reject bar.
Fixed an issue in which we weren't properly keeping track the selected cell after editing and navigating back to the library.
Fixed our in-app announcement message not auto dismiss if you tapped to read the announcement post.
Fixed some layout issues with the batch toolbar, particularly on iPad.
When picking a photo to add to an album on Mac, double-clicking on a photo will now add it to that album.
Fixed side swipe quick start of multi selection showing in the photo picker.
Frame Tool
Fixed an issue that caused some photos to get downscaled when exporting with a frame.
Fixed the Frame tool Smart Colors not accurately reflecting the dominant colors in a photo.
Fixed the Frame tool resetting the scroll position of the color picker every time a video is paused.
General Improvements
When you change the Blacks or Whites sliders to fix lighting problems, we now maintain those adjustments as you apply filters, allowing you to fix those exposure issues, then add a look without losing your work.
Fixed dark tones inverting when a saturation was fully decreased, and the blacks slider was decreased as well.
Fixed the Revert action not working properly if the photo was not available locally.
Reverted a recent update to our copy/paste logic wherein the aspect ratio of a copied edit was also applied when pasting. This was causing unexpected behavior, and we have better plans to support it in the future.
Also reverted a recent change we made to prompt you to replace edits if existing local edits are different from remote edits, which was causing unnecessary confusion.
---
Three More, Darkroom+ Extras
We added 3 new app icon variants, available only to our Darkroom+ subscribers. Pride makes the social icon we had to celebrate Pride Month last June available in the app for all to use. Awake is an homage to the Tycho album that helped inspire and motivate building the initial version of Darkroom back in 2014. And lastly the M1 processor/circuit icon is a salute to Apples new amazing chip set that makes Darkroom screaming fast. Making for a new total of 21 icons to chose from to personalize Darkroom!

---
Please keep sending in reports of any issue you see, large or small. If there's something you'd like to see added in the future please let us know by sending us an email or tweet at us on Twitter.
As always, we're very thankful for your continued loyalty and support, and look forward to sharing everything else we have in store for you.
The Darkroom Team