RAW, Perspective, Batch, and so, so, so much more
I'll be honest, I don't know what I've been more excited to share: The biggest feature release in Darkroom's history, or the badass new neon branding. It's a toss-up if you ask me, but it's here! It's bright and colorful, and it's ready to grace your homescreens with 18 new user-facing features, so let's groove!
Over 15 months in the making, 60% of the app has been completely rewritten for this update, including an all-new image processing engine. Beyond enabling the new features we're releasing today, this big investment in our infrastructure allows us to lay a foundation for our future plans, because y'know, we're stayin' alive, stayin' alive!
It's been three years since we launched Darkroom and the response from the community has been incredible. Today, millions of people have downloaded the app, and hundreds of thousands actively use it every month, many of them daily. We were included in the Best of the App Store and featured in Apple's Retail stores worldwide. That's the way I like it.
Ok. I'm out of Disco references. Let's get on with it.
Download Darkroom 3 From the App Store Now
---
RAW and the new Darkroom Engine
We're very proud to finally announce RAW editing support, as well as Large JPEG and Live Photo editing support. All these features are enabled by the brand new Darkroom Engine built on the latest Apple technology which allows us to provide much deeper integration with the system, and much faster performance.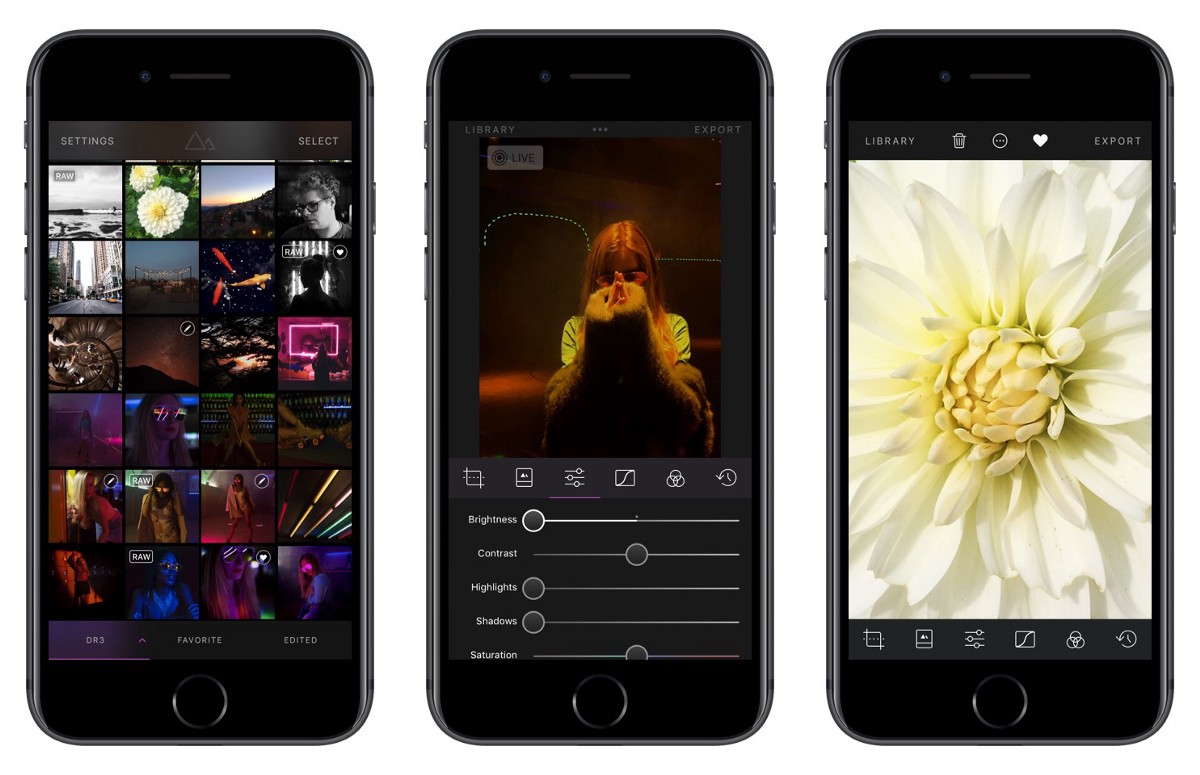 New features
RAW photo editing support from a wide range of cameras and leveraging the full color depth available.
Live Photo editing and playback support (Available only with "Modify Original" export option).
Large JPEG photo and panorama support.
Uncompressed TIFF export support images, as well as 95% and 80% compressed JPEG to save file space.
Highlights, Shadows, Tint and Vibrance slider support for all photo types.
Enhancements to existing features
Full resolution zoom on non-RAW photos.
The "Modify Original" export option no longer loses edit history. Edit, export, then continue editing and re-export if you need to without ever losing your edit history.
Much more memory efficient loading and rendering leading to a much more pleasant and efficient editing experience.
---
Perspective and the Transform tool
The biggest update to our tools comes to the Transform tool, previously called the Crop & Rotate tool.
Have you heard the term "App Safari"? Jessica Zollman mentioned it to me recently, and I thought it perfectly captured how mobile photographers often edit photos. Because most apps offer very focused feature-sets, a photographer often has to rely on multiple apps to edit photos.
Obviously, using fewer apps to edit all your photos is an aspiration; Each export/import causes more JPEG artifacts and compression, and each takes time and effort. That's why we're thrilled with the addition of perspective and re-addition of white border support. Each of those features work seamlessly in Darkroom without overloading the UI with complexity, and each prevents an app-hop, something we're always trying to do. Sprint, don't hop!
Added support for Vertical and Horizontal perspective correction.
Added support for white borders with 3 different styles.
Added ability zoom while cropping in order to improve crop accuracy.
Added ability to flip an image horizontally.
Refined the aspect ratios to make them more semantic.
Expanded list of supported crop grids.
Added support from crop and rotation changes in the History tool.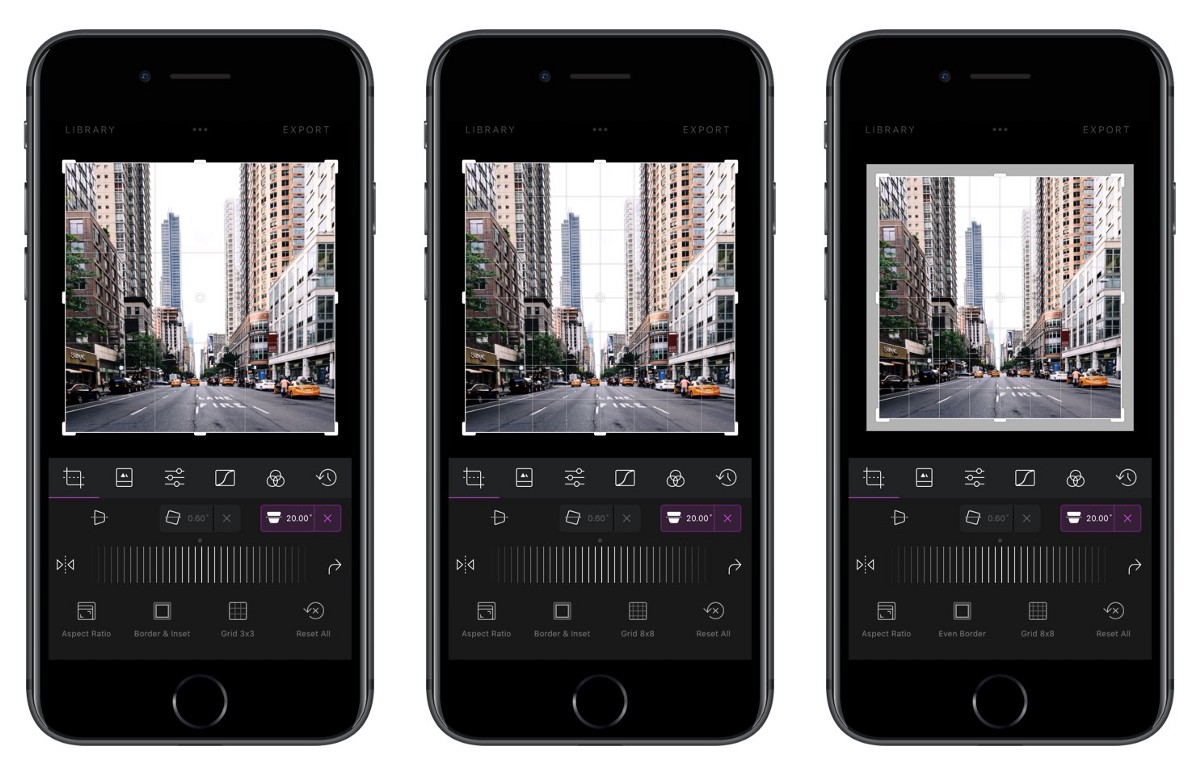 ---
Batch editing and Library Sync
Last, but definitely not least, we've added comprehensive support for batch editing in Darkroom. We didn't want to simply let you paste edits onto multiple images, we wanted to embed batch editing into the app through and through. There are two parts to doing this: Quick Actions, and Batch Processing. Both are deeply integrated into the native iOS Photo Library using Library Sync. Quick actions are accessible by long-pressing on a photo in the grid, or using the Actions button in the editing interface.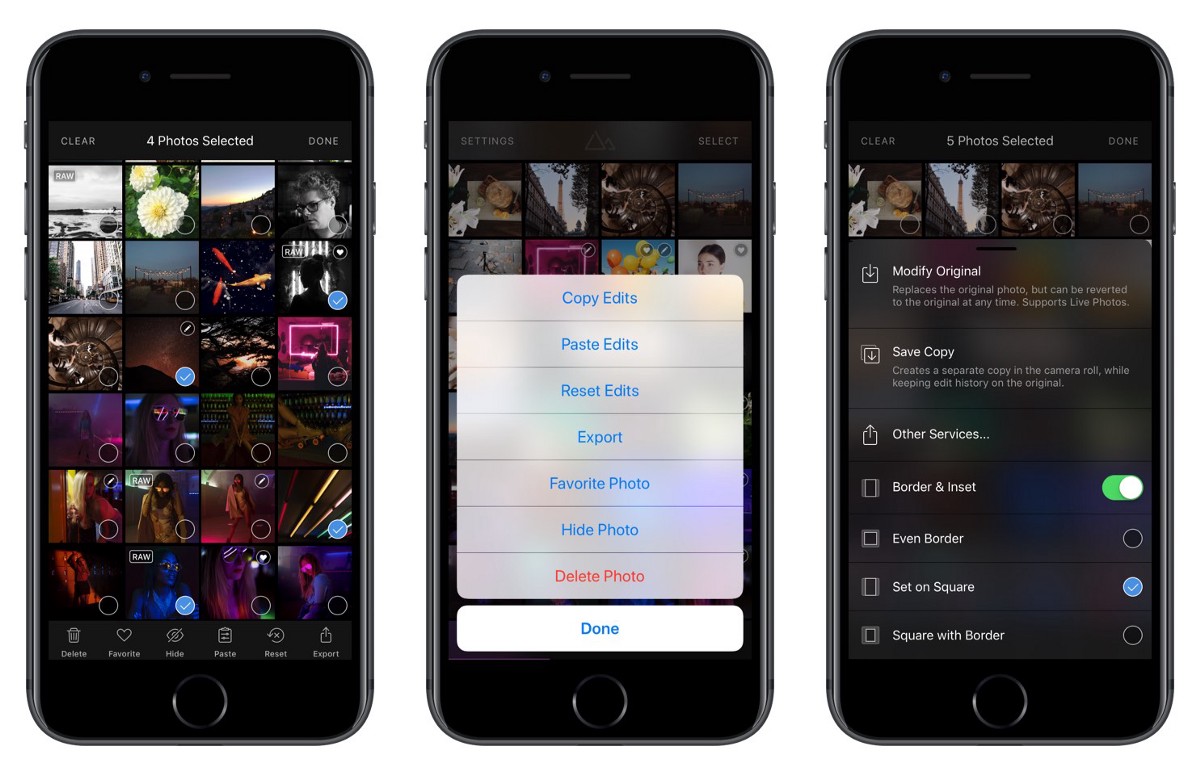 Support Batch Actions:
Delete multiple photos at the same time.
Favorite & unfavorite photos.
Hide & retrieve photos.
Paste edits from the app's clipboard.
Reset edits to multiple photos.
Export multiple photos, with optional white border.
Supported Quick Actions:
Revert photo after exporting with the "Modify Original" option.
Copy edits to the app's clipboard.
Favorite/Hide/Delete photo.
---
We hope you enjoy these features. There's a lot more in the app that we haven't touched on, like Chromeless viewing and SnapScroll, but we'll give those features the space they need in future blog posts.
To stay up to date with the latest happenings of Darkroom, make sure you follow us on Twitter and Instagram.
Thank you for reading, we can't wait to see what you do with Darkroom.
The Darkroom Team