Comparing Darkroom & Lightroom
Are you a photo editing enthusiast? If you're already using Darkroom or interested in trying it out, you may be wondering how it compares to its main competitor, Lightroom. Both apps are great for editing photos, but they have some key differences that are worth considering. Let's jump right in.
For one, most people now use their iPhone as their primary camera. Darkroom is built directly on top of Apple's iCloud Photo Library, so all of your photos are ready for you to start editing in Darkroom immediately after capture. We even integrate with popular camera apps to make the workflow from capture to edit as quick and smooth as possible. So, you won't have to import or upload anything, and you won't have to manage separate libraries. In contrast, Lightroom requires you to import every photo you want to edit into their separate library.
Additionally, Darkroom is exclusive to Apple devices, while Lightroom is available on all platforms. So if you're an Android user, you're out of luck with Darkroom. On the other hand, if you're an Apple customer, which many mobile photographers happen to be, Darkroom has an award winning interface that is focused on reducing taps and increasing workflow efficiency, making it ideal for those who want to be able to edit photos efficiently on the go. With its hefty array of editing features, Lightroom on the other hand caters more to professionals with a matching price.
Ultimately, the choice between these two apps depends on your personal preferences and needs. The good news is that both apps offer free trials, so you can test them out before committing to a purchase. So whether you're a professional photographer or just someone who loves taking pictures, Darkroom and Lightroom offer their own unique features and benefits. The choice is yours!
---
Let's briefly introduce both applications.
Darkroom
We're a small, independent business that's been around since 2015. From the beginning, we've prioritized creating an exceptional photo editing experience on Apple's platforms that's optimized for people on-the-go. We were thrilled when Apple recognized our efforts by awarding us the prestigious Apple Design Award. Now, you can use Darkroom on your iPhone, iPad, and Mac, and take advantage of the seamless integration with Apple's iCloud Photo Library and many other unique Apple platform functionalities.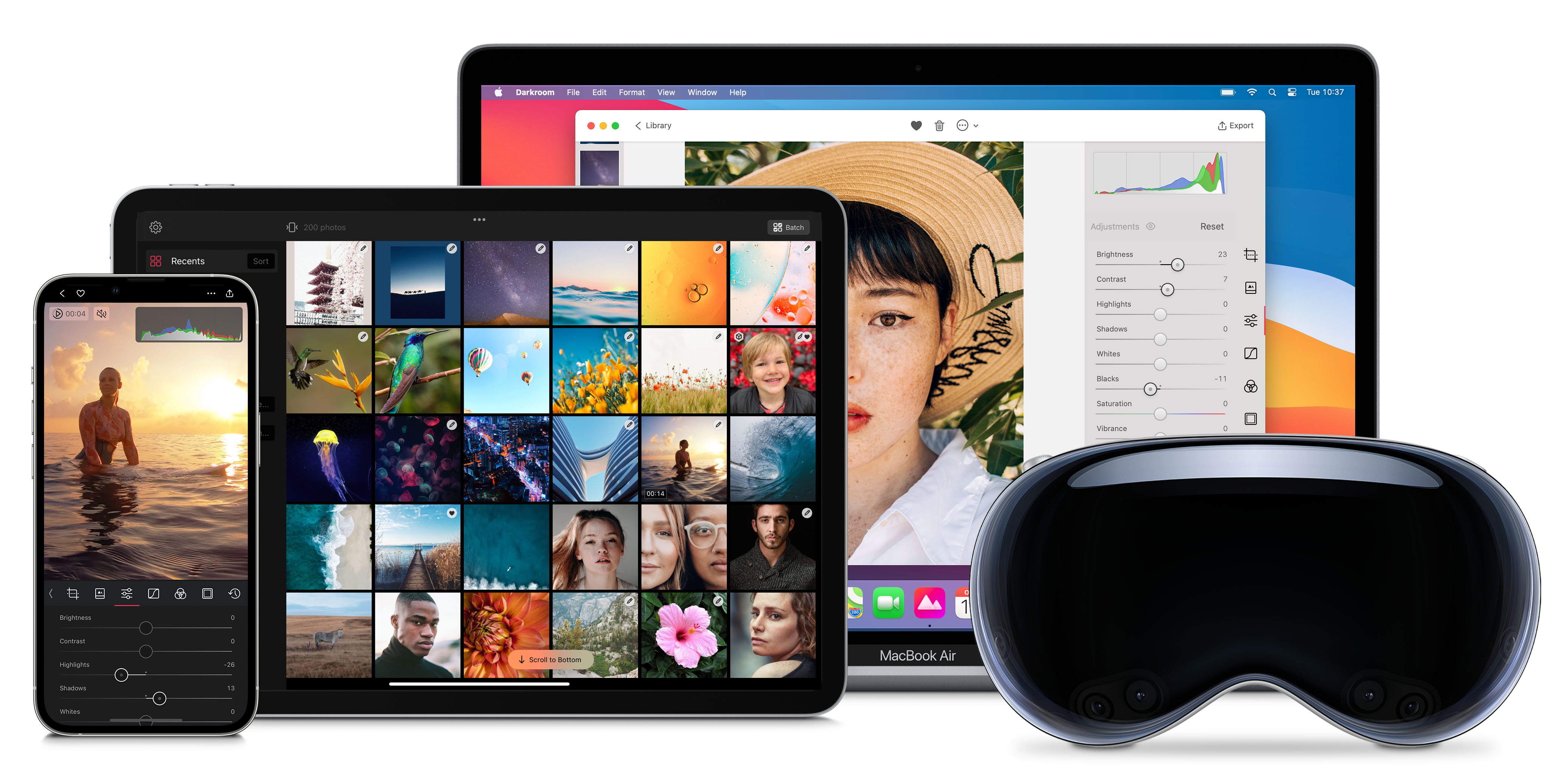 Lightroom
Lightroom has been around since 2006 and has set the bar for what a photo editor can be, along with apps like Capture One (and remember Aperture?). It is already a fairly complex, feature-rich, desktop-first photo editor that's compatible with almost every software platform you can think of. To be clear, when we talk about Lightroom, we mean the one that is also available on your iPhone and iPad, and are not referring to the Classic version, which is the original desktop-centric counterpart with even more traditional interface, heftier editing features, and local storage solutions. It's owned by Adobe, one of the world's largest publicly traded companies, which also owns Photoshop and many other creative apps. So, if you're looking for a powerful photo editor with an extensive range of advanced features, they are definitely worth considering.
---
How do they compare?
Let's delve deeper into the comparison between Darkroom and Lightroom. We'll take a closer look at their features, pricing, and testimonials to help you decide which app might be the best fit for your photo editing needs. Let's get started.
A Single Photo Library
We mentioned it right at the start. Darkroom has a clear advantage over Lightroom when it comes to managing your photo library. With Darkroom being built directly on top of the Apple's iCloud Photo Library, all of your photos are always ready for you to start editing immediately after capture using your camera app of choice. So, no importing or uploading anything to a second or separate library. That's in substantial contrast with Lightroom which requires you to import every photo you want to edit into their separate library, locking you in.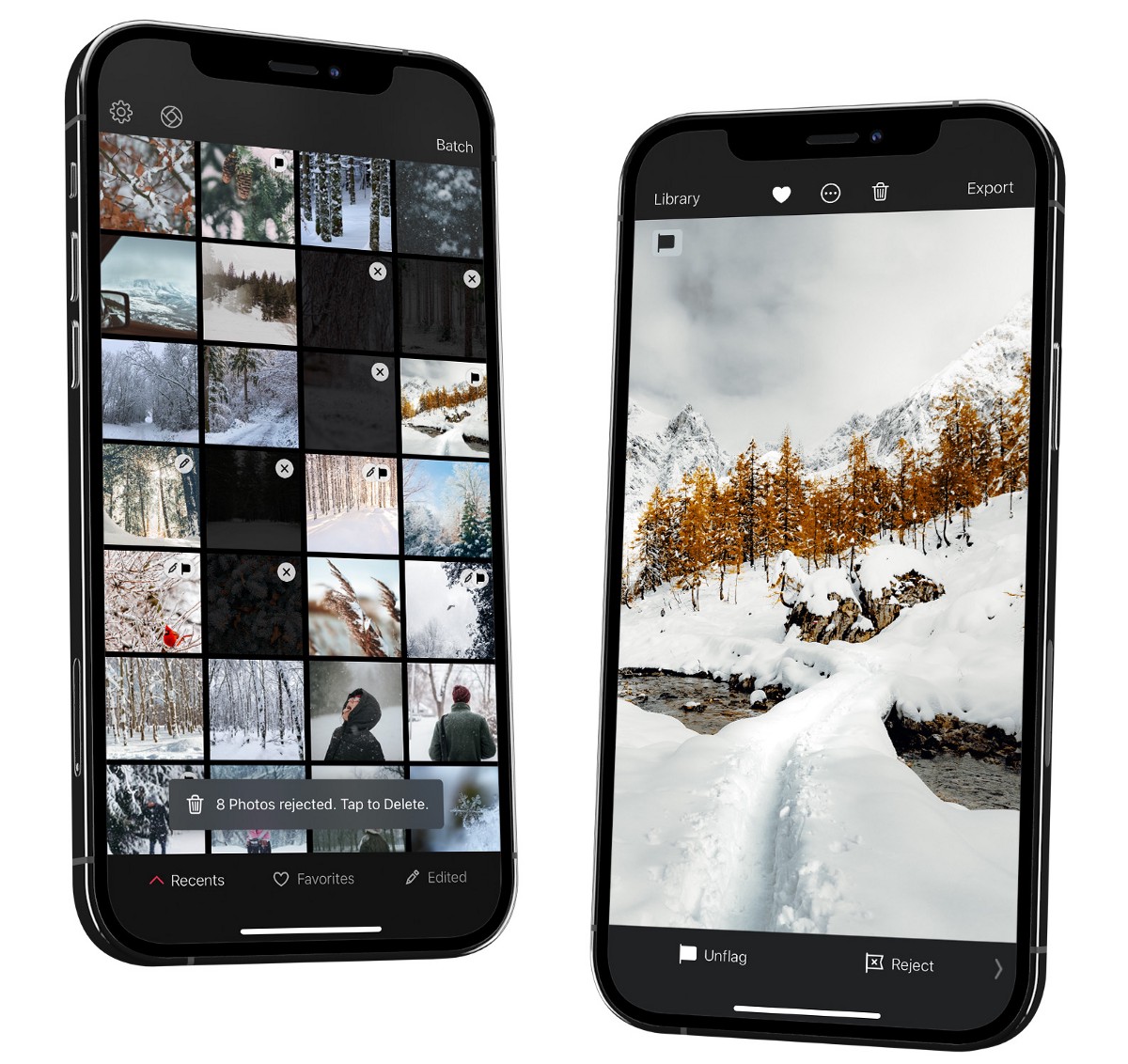 At Darkroom, we believe that library management is a key feature that helps people create great photos. We recognize that importing and organizing photos can be a time-consuming and frustrating process, which is why we've made it as easy as possible. Our app is built with busy photographers in mind, and we've designed it to help you edit your photos quickly and efficiently on the go.
So if you're not a fan of spending hours importing, managing, and paying for separate photo libraries, give Darkroom a try! We think you'll love how easy it is to use and how it seamlessly integrates with your iCloud Photo Library.
Mobile Efficiency First
Darkroom was built with mobile on-the-go photographers in mind. Its mobile-first, workflow-optimized interface is designed to help you edit your photos quickly and efficiently with as few taps as possible. In contrast, Lightroom originated during a desktop-first era, which can make for a less easy or efficient workflow.
Darkroom's Apple Design Award recognizes the app's focus on an efficient workflow. We designed it specifically so that you can operate it using just your thumb through explicit navigation and gestures. Try and find any other photo editing app that does that!
Many of Darkroom's features are specifically relevant to mobile-first photographers. For example, you can quickly cull trip photos on the go with just your thumb using Flag and Reject, as all your photos are ready to go and don't need importing. Culling in Lightroom is a pretty inefficient workflow in comparison because of the importing.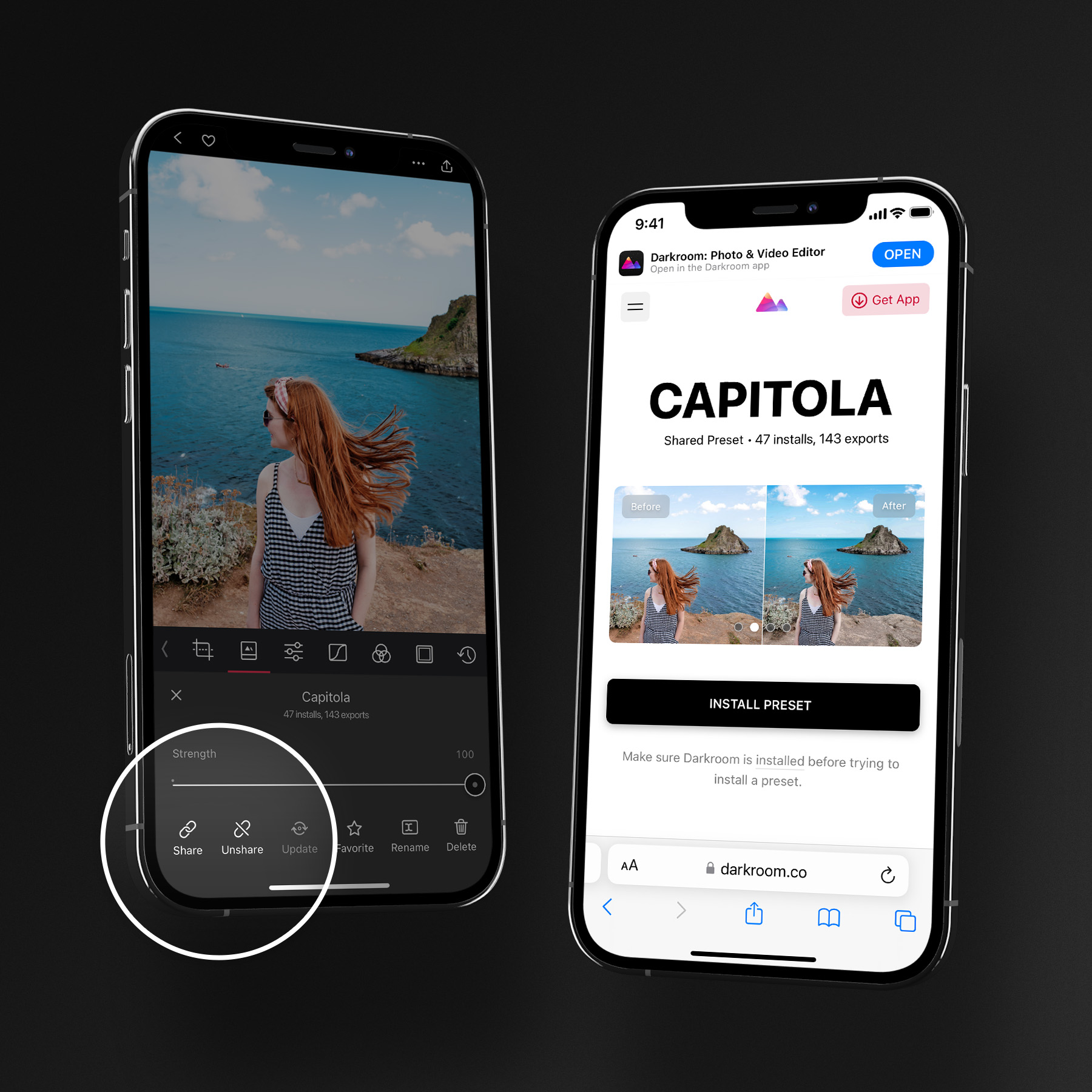 And in Darkroom, you can easily share and install presets using a simple sharable link, without having to create, manage, send, and install old-fashioned files like you would need to in Lightroom. Darkroom also offers a unique Frames tool that lets you export any aspect photo inset on a Stories aspect ratio background, with colors matched to tones from your photo.
While both Darkroom and Lightroom offer very similar batch processing functionality to apply the same edits quickly to trip photos all at once, Darkroom is designed with mobile-first photographers in mind. If you're always on the go and need to quickly edit your photos, Darkroom is a great option.
Non-Destructive Editing
Both Darkroom and Lightroom offer non-destructive editing, which means you can edit photos without altering the original image. This feature is important because it allows you to freely experiment with different editing options and revert to the original image or any specific edit if needed. Other image editors, like VSCO, Snapseed, or Pixelmator, permanently alter the original image with your edits, making it impossible to undo specific edits as every steps is destructively processed. So, whether you're a professional photographer or just someone who loves taking pictures, non-destructive editing is a great feature to have.
Native to Apple
We started off on iPhone, expanded to iPad, and then came to the Mac. We owe a lot of our success to Apple, who made a wealth of technology and tools available to us as an independent software developer. We love the Apple software ecosystem, and we prioritize deep integration with it to provide super-tight and efficient workflows that seamlessly integrate with the system and other software. In fact, we use cutting-edge technology like Metal hardware-accelerated rendering, and leverage Apple's AI and machine learning advances, and specific features like Shortcut Automation to provide a level of platform integration that many other photo editors don't match.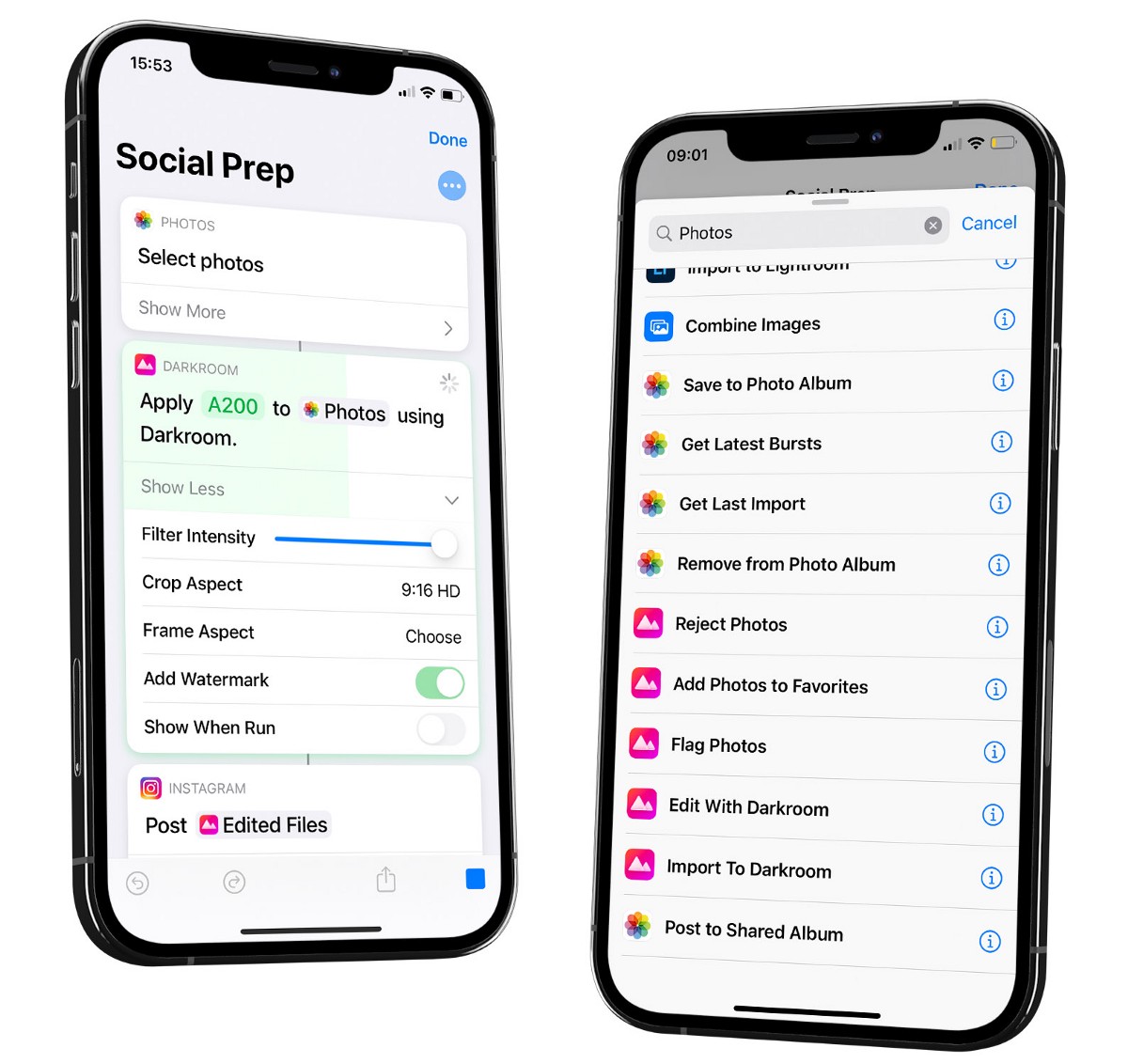 Advanced Tools
Let's be fair: Darkroom hasn't nearly been around for as long as some of the other big players in the photo editing game, like Lightroom or Capture One. But that doesn't mean we're not constantly pushing ourselves to be the best. Our team is dedicated to creating tools that are better than anything else out there, no matter how big the competition. We're always looking for ways to improve and push the creative tools industry forward.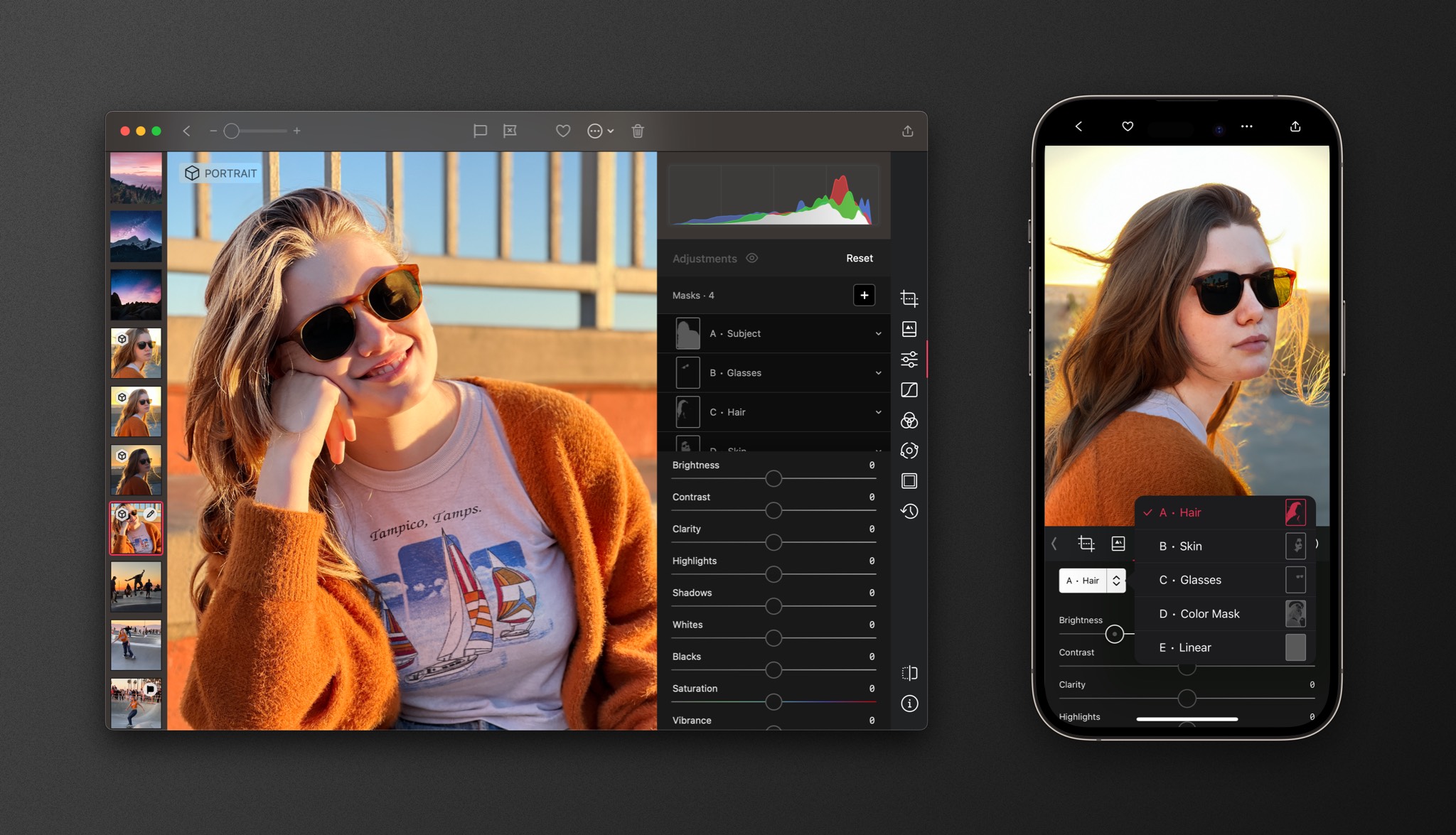 Advanced Masking — Darkroom has advanced masking options that allow you to edit specific parts of your photo with precision. You can use smart masks powered by AI and machine learning to easily select and edit just the foreground or background, the skin or hair on a portrait. Additionally, linear and radial masks are available, and you can even make selections based on depth, luminance, and color ranges. These features are nearly identical in both apps and can help you achieve the perfect edit for your photos!
Shadow & highlight Recovery — Our shadow and highlight recovery tools are at the cutting edge of the industry – for both JPGs and RAWs. And we don't say that lightly! We're a small, independent business, and we put our hearts and souls into making sure every feature is the best it can be. We don't cut corners or settle for "good enough." If we think it's worth doing, we do it right.
Our spatially aware algorithms ensure your shadow edits will not effect the midtones and highlights, and vice versa.
Color Grading — We aren't afraid to try new things and incorporate tools from other domains like video editing. One example of this is our color grading feature. It provides a compact and intuitive interface that makes it easy to develop a unique look for your photo. Lightroom has also recently added this feature, but we believe that our interface is even more intuitive and refined. So if you're looking for a photo editing tool that's both powerful and easy to use, give us a try!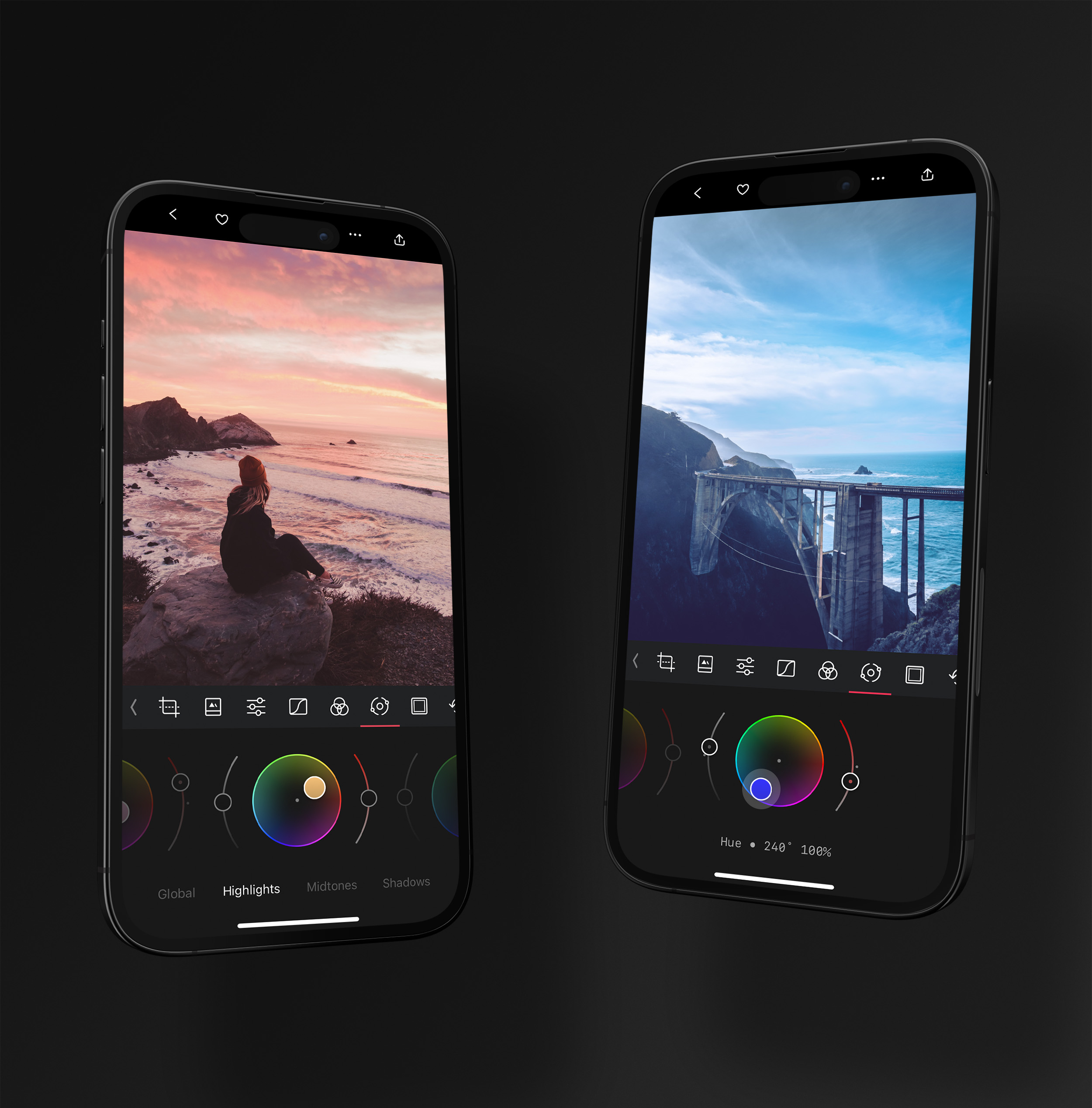 Video — Darkroom even allows you to process your videos with the same tools as your photos! That's right, you can crop, adjust, color grade, apply presets, and add frames to your videos just as easily as you can with your photos. On the other hand, Lightroom only recently added some of this functionality, and unsurprisingly enforces the import step if you want to edit them. So if you want a photo editing app that can also easily and efficiently handle your on the go video processing needs, Darkroom might be the way to go for you.
---
Pricing Comparison
To be direct, the subscription plan for Darkroom is much cheaper than Lightroom's, especially the yearly option, making it a far more budget-friendly option. In addition, Darkroom offers a one-time purchase option, and a feature rich free tier. In contrast, Lightroom only has subscription plans. So if you're looking for a powerful photo editor that won't break the bank, and is easy to try, Darkroom is definitely worth considering!
The Darkroom+ subscription costs $32.99 a year, or $6.99 a month.

Darkroom+ is uniquely available for a one-time $74.99 purchase.
Darkroom+ comes with a free trial with every subscription.
Darkroom provides an extensive free tier in which you can try all premium Darkroom+ features, with an export restriction, even outside the trial in our free tier so you can explore all features in depth.

The Lightroom subscription costs $119 a year, or $9.99 a month.