Darkroom 6: Make Local Adjustments with Masks
Masks are a fundamental tool for photographers, and Darkroom is proud to introduce them in a powerful package, backed by AI, and designed for mobile photographers as part of Darkroom+. With masks, you can enhance the lighting in a photo or separate a subject from its background to direct the viewer's eye, thereby telling a more compelling story.
In a nutshell...
Given the size and scope of this update, we are increasing the price of Darkroom+ for new members to $5 per month, $30 per year, or $75 for a one-time purchase, which unlocks Masks and all our premium features across iPhone, iPad, and macOS.
To celebrate this release, we're offering a 30% discount on our yearly subscription for the next two weeks (starting April 12 '22, ending Appril 26), so you can get Darkroom+ for only $20/year.
---
AI-Powered Subject and Depth Masks for any photo
When you open any photo in Darkroom 6 we automatically process it using our new artificial intelligence (AI) algorithms to generate a 3-dimensional understanding of the scene in the photo. We do this realtime and on-device, meaning it fits effortlessly into your existing editing workflow (and respects your privacy).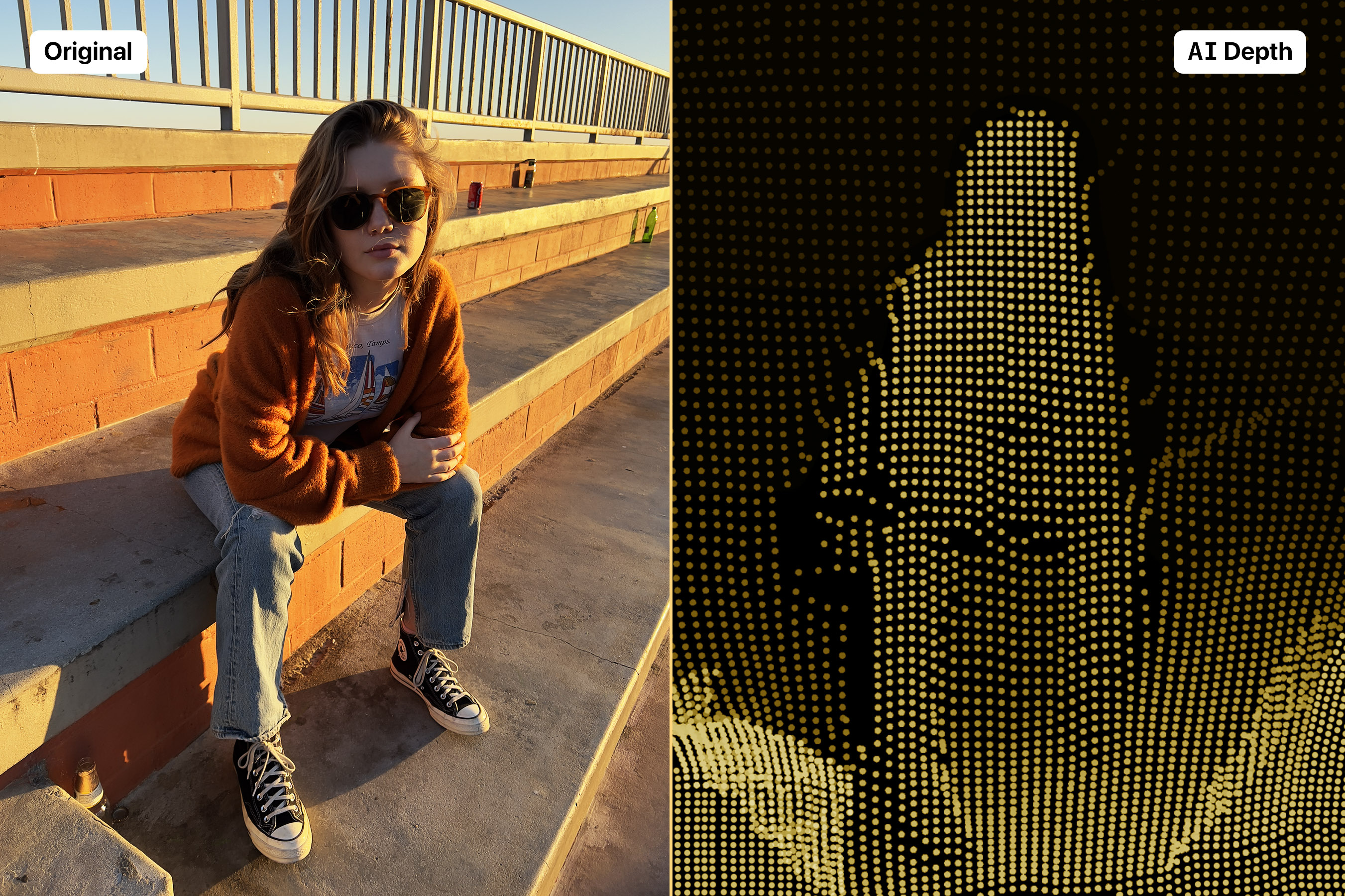 If there are people in the scene, the AI algorithm will also identify the primary subjects and allows you to edit them separately. This kind of editing was only possible on Portrait photos in the past, but is now available for all the photos in your library.
Foreground & Background Masks
The foreground mask allows you to edit the closest areas of your photos separately from areas towards the back. This is similar to the previous Portrait editing feature in Darkroom, but it's expanded with support for a much wider set of sliders and options.
Background masks are the inverse of the foreground mask. The two masks overlap slightly in the middle of your scene, but their smooth transition makes them ideal for separating the front from the back of your photo.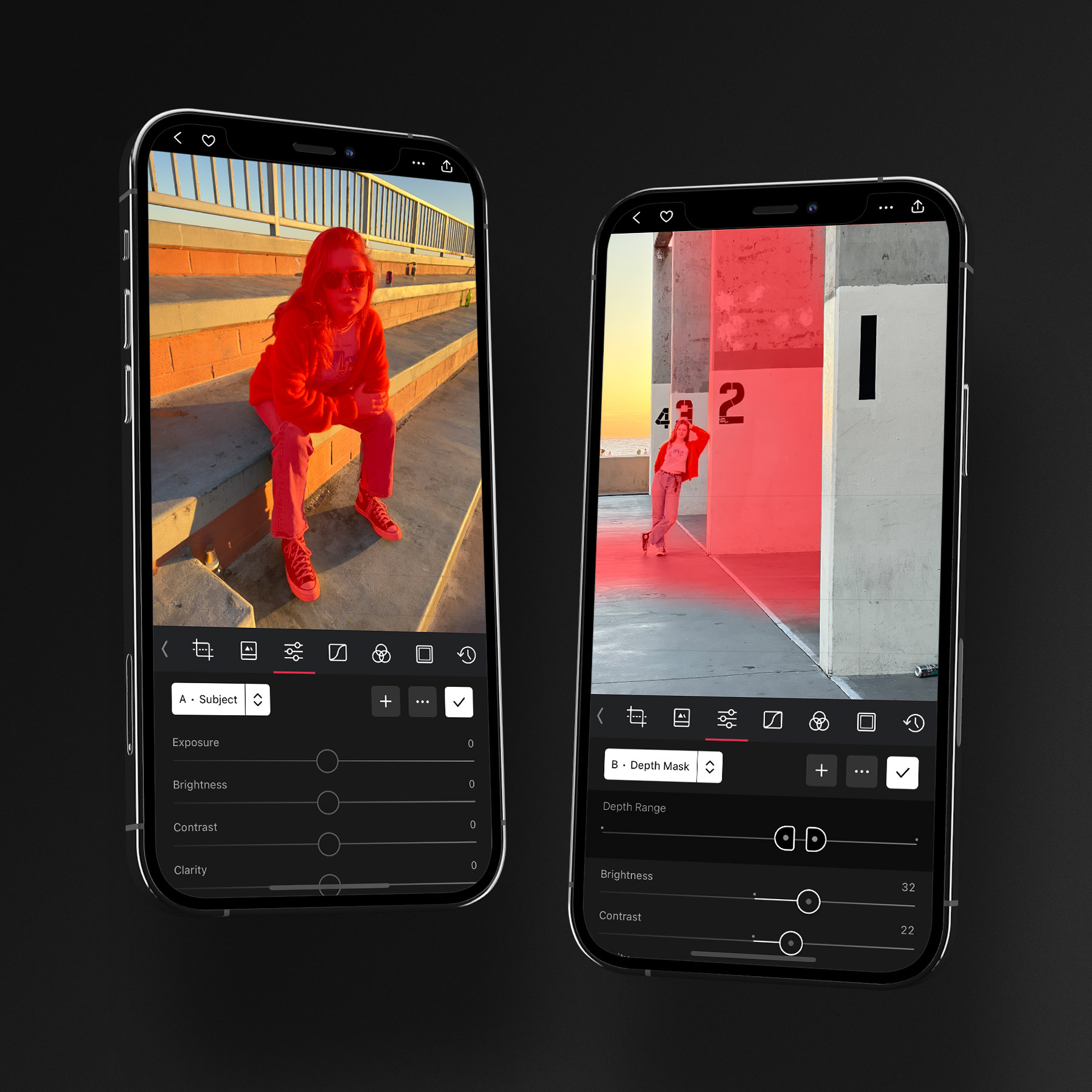 Depth Range
The Depth Range mask includes a selector to specify a range of depths in your photo to edit. This range can be inverted, so you edit everything except the region specified. This is useful for photos where a person in the middle of the photo needs to stand out from the surrounding environment.
Note: These masks are available for all photos but not for videos. Portrait photos still use the native depth data generated at capture-time.
---
Smart Masks for Portrait & ProRAW Photos
For the first time on iOS, we're exposing Smart Masks that are captured on iPhone when you shoot in Portrait and ProRAW mode. These incredibly detailed masks have been generated by Apple on iOS for years but have been hidden until now!
Depth editing has existed in Darkroom since 2019, when we were first to expose the foreground and background as editable depth masks. We've completely revamped this feature with this release, to dramatically increase its capabilities.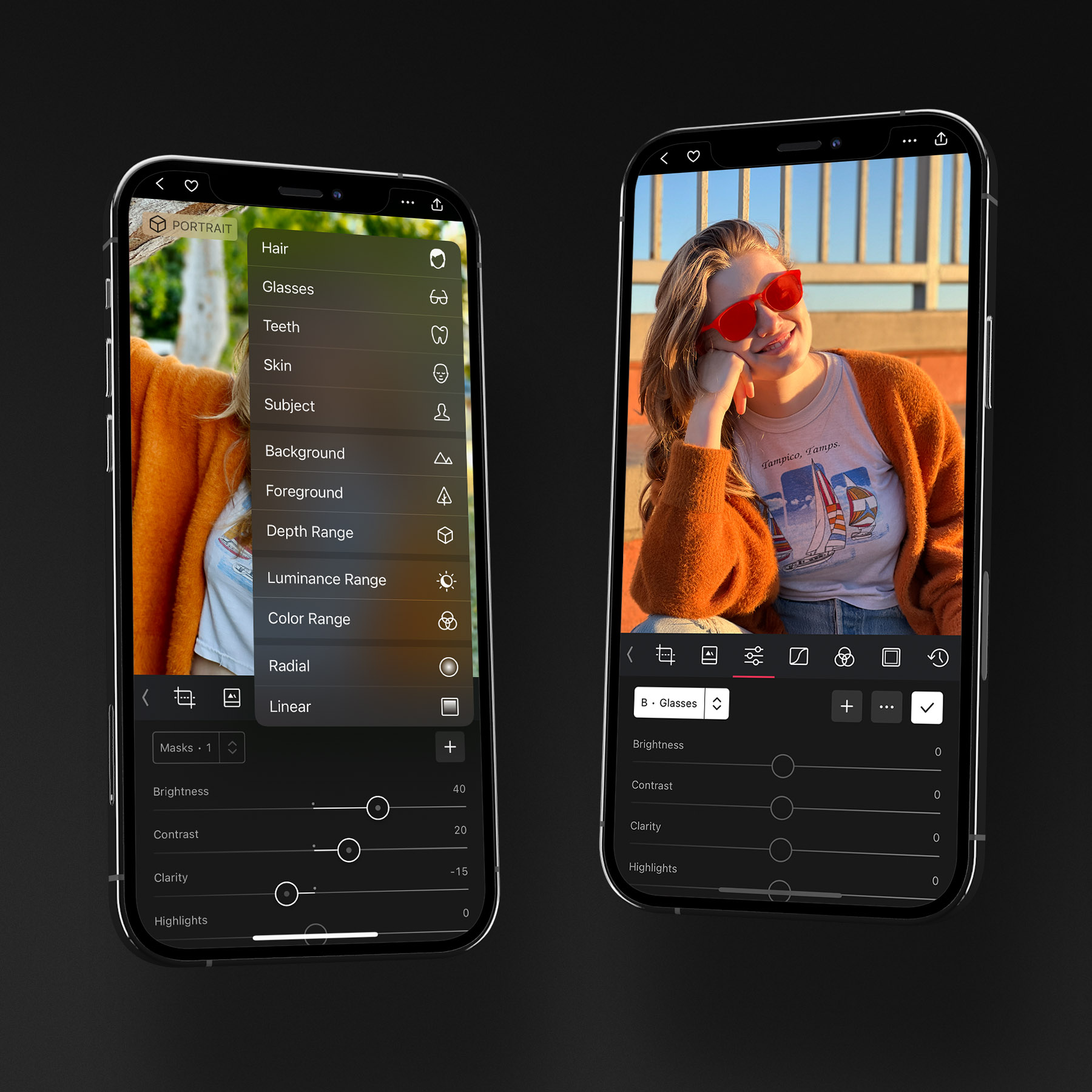 Portrait Photos
Apart from the standard Subject & Depth masks we already discussed, Portrait photos now also contain the following smart masks when available: Skin, Glasses, Hair, and Teeth.
Reducing clarity within a skin mask is a really easy way to smoothen the imperfections or blemishes on skin, and whitening teeth goes a long way towards making a portrait look like it was captured on a person's best day.
Note: Foreground and Background masks for Portrait photos remains a free feature as they were before this update, but the new Smart Masks are only available to active Darkroom+ members.
ProRAW Photos
When you capture a photo on iPhone with RAW enabled, the resulting ProRAW photo contains not only the 16-bit rich color and light details, but it now also includes some smart masks when available in the photo: Sky, Skin, and Subject.
---
Gradient Masks
The Linear and Radial masks are the most foundational masks we provide. They enable you to manually mask small or large areas of your photos with touch-friendly controls. Used alongside our broad adjustment toolset, you will be able to more creatively express your story, and direct the viewer's eyes when experiencing your photography.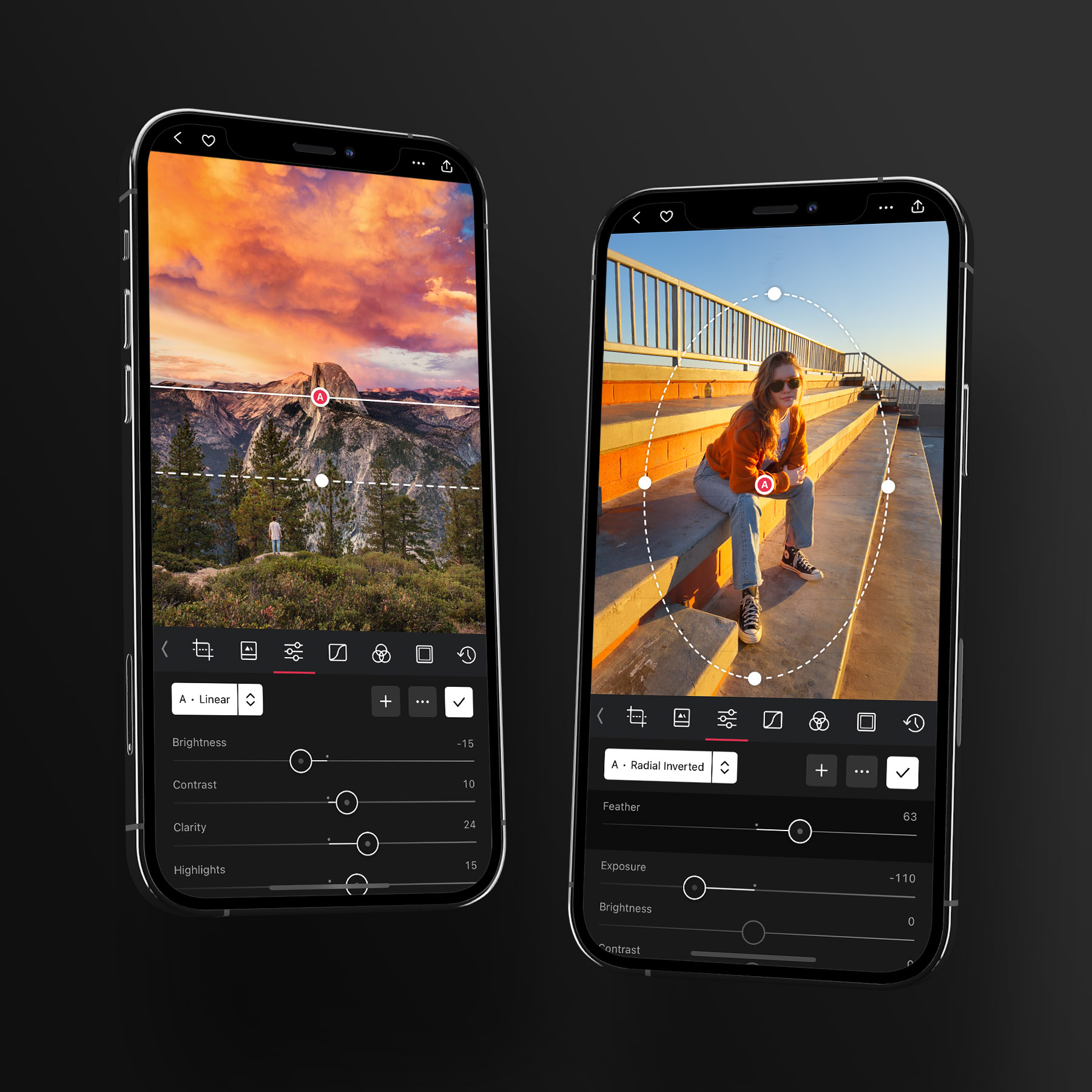 Linear Gradient
Define a linear gradient and apply edits only within that region. This mask type is particularly useful for landscape images, where it comes in handy for editing the sky or the brightness of the foreground.
Radial Gradient
Radial Masks are very similar to Linear ones, but define an oval region where the adjustments can take effect. Radial masks differ in two key ways however:
You can invert a Radial mask, allowing you to edit everything except the region specified.
You can adjust the feather of a Radial mask, controlling the falloff from the outer edge, to the center of the oval.
Radial masks are perfect for subjects in the photo and portraits.
---
Range Masks
Range masks allow you to define specific color or luminance (bright to dark) range in which to apply edits. When combined with other mask types, help you create pixel-perfect masks to edit specific regions and colors.
Color Range
Color Range masks expose two sliders to make a color selection. The Hue slider specifies the color of the selection, while the Range slider adjusts the spread of the color selection. For example, if you select a green hue, and increase the range, you will also start selecting some yellow and blue, since they are adjacent in the color spectrum.
Luminance Range
Luminance is another way of describing how bright a pixel is, so the Luminance Range defines a specific range of luminance in your photo, which allows you to edit the bright or dark areas of a photo.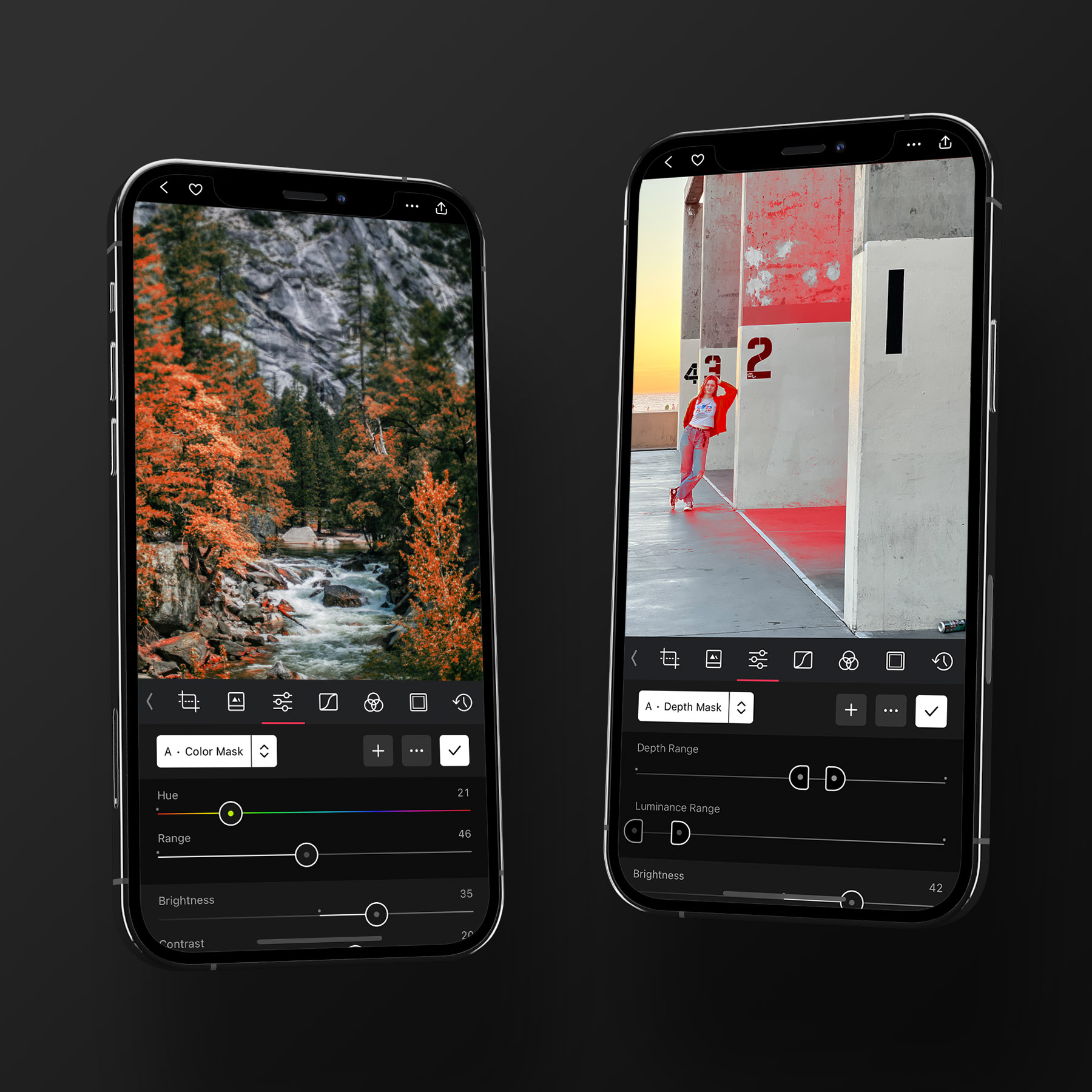 Combining Masks Together
Masks can be combined to create extremely powerful and targeted adjustments. For example:
You can combine a color mask and a luminance mask to edit only the bright blue pixels in your image.
You can combine a luminance mask with a depth range mask to edit the dark areas in the back of your scene.
You can combine a luminance mask with a linear mask to edit the sky in your photo, without affecting anything below the horizon.
---
Copy & Paste Options
Since some masks are image-specific while others are generic, we have revamped our Copy Edits feature to now allow you to select which category of edits are copied. Also allowing you to copy and paste crop aspect, rotation and frames as well as whether to include masks when copying edits.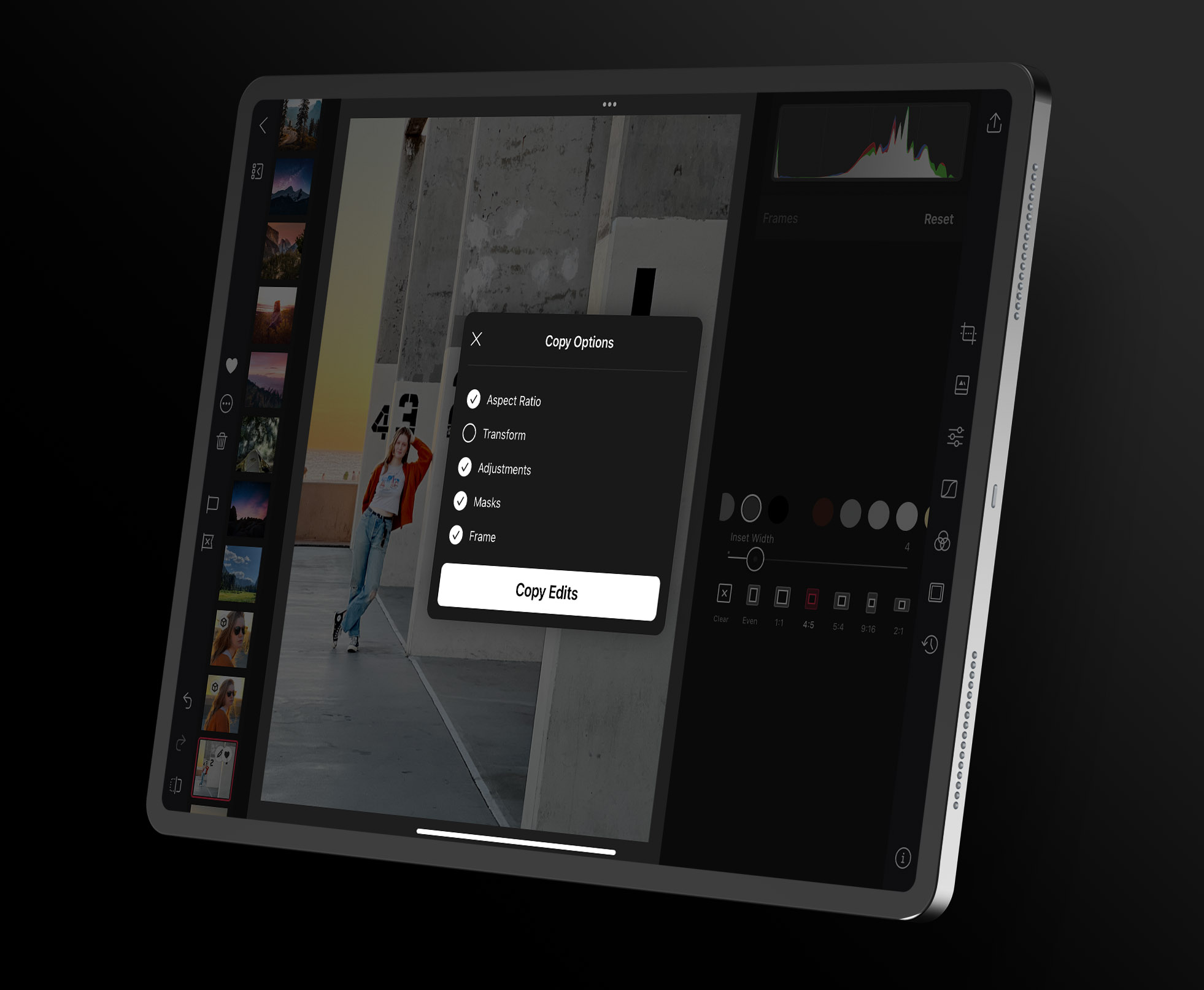 ---
Pricing and Availability
Masking is part of our Darkroom+ purchase, available for $5/month, $30/year, or for a one-time payment of $75. This purchase unlocks Masking, Video Grading, Curves, Color, Flag & Reject, watermarks, and custom icons.
Foreground & Background editing for Portrait photos remains free as it was before this release. However, all the other mask types are part of our Darkroom+ purchases.
Please note that from now on, new Darkroom+ features will no longer be available to our legacy Darkroom customers. As a courtesy to our long-time supporters, we provided new premium features for free for two years since our introduction of Darkroom+.
All the features you as a legacy customer have access to today will continue to be available to you, but new features like Masks are only available to Darkroom+ members and those who purchased Darkroom+ using the one-time "Forever" option.
---
Brand Update #6
Every major version of Darkroom comes with a brand update, and version 6 is no different. With this release we further embraced rich coloring and shading of our symbol, to reflect the gained richness of the app itself.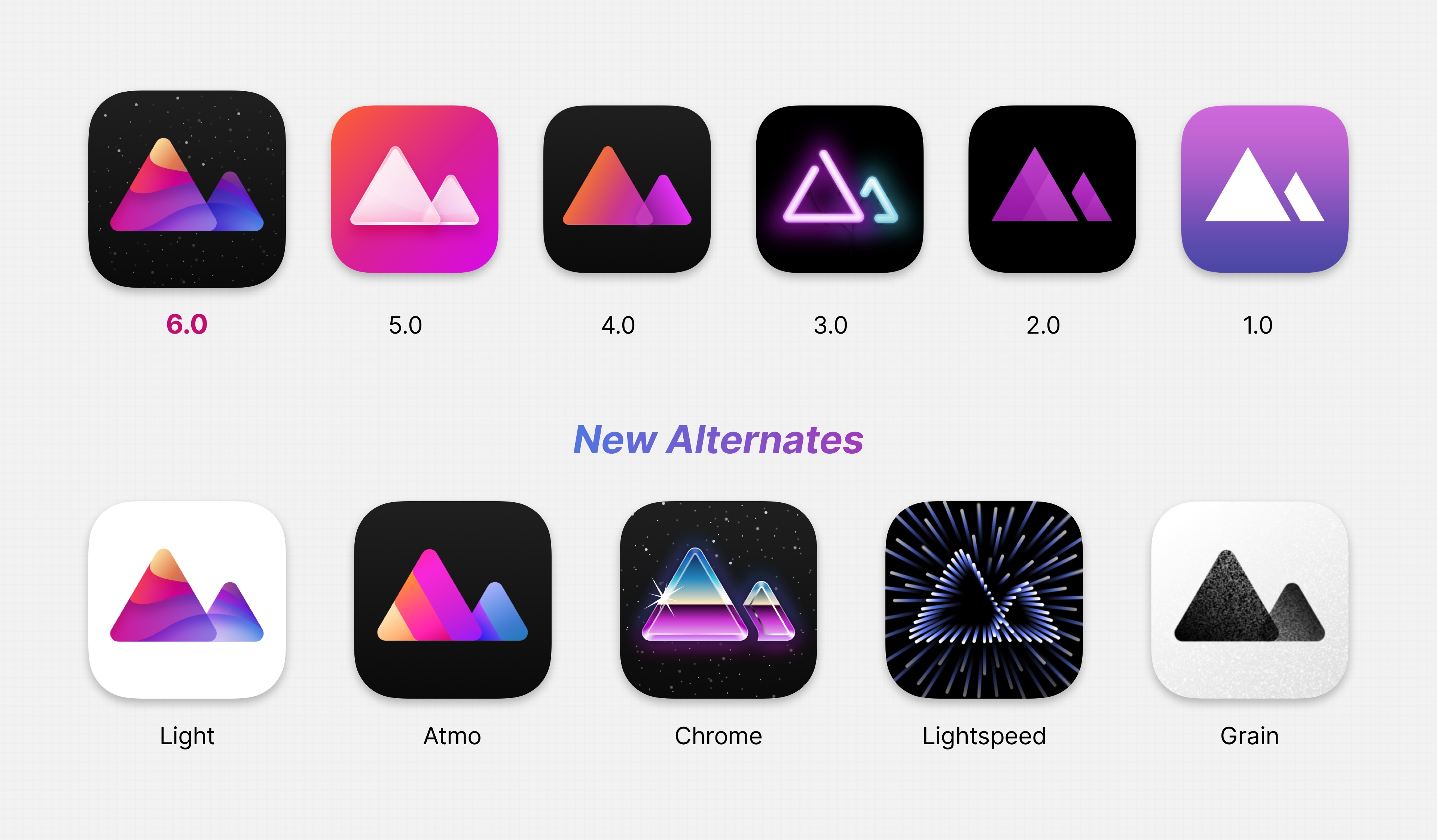 We also added additional variants for our Darkroom+ members:
Atmo, a study that preceded the final icon we liked so much we couldn't resists sharing it.
Chrome and Lightspeed builds on the vintage 80/90's theme.
Grain is there for all the analog lovers out there.
Note: changing the app icon from within the app is not available in the Mac app. We created a dedicated page detailing how to achieve it manually!
---
We are really excited for the creative expression masks unlock for everybody, and can't wait to see what amazing imaginative results come from it. We hope you are all as excited as we are, and that you share your creations with everybody.
If there's something you'd like to see in the future please let us know by leaving it on our suggestion board, or by sending us an email or tweet at us. For a full detailed list of all changes please visit our updates page.
As always, we're very thankful for your continued loyalty and support, and look forward to sharing everything else we have in store for you soon.
The Darkroom Team