RAW + JPEG, Modify Original, and a Christmas Giveaway
We have a lot to talk about, but let's start with the news: Darkroom 3.3 is a little Christmas present for our users. Addressing the most common issues people are reporting with our app today, we wanted to leave you for the holidays on a high note:
Added support for RAW+JPEG images. Now, when Darkroom detects that the photo is a RAW+JPG composite image, it will default to treating it as a RAW image. This should come as great news to DSLR users who prefer shooting in that mode, and the many users of our new "sister-app", Halide, which recently added support for the feature. Currently, the JPEG variant is inaccessible. We plan on adding deeper support to this file type in the future.
Improved Modify Original export option. Darkroom now integrates more naturally with the iOS ecosystem, allowing you to continue editing on top of preivous edits, made either by the Photos app or other third-party apps. This should make the experience much more seamless for those who rely on multiple apps in their editing flow.
Auto Align Setting. As part of our Darkroom for iPhone X release, we added support for Auto Align using Apple's brand-new machine-learning-backed Vision framework. Unfortunately, we didn't add a way to disable that feature. This update addresses that shortsightedness on our part.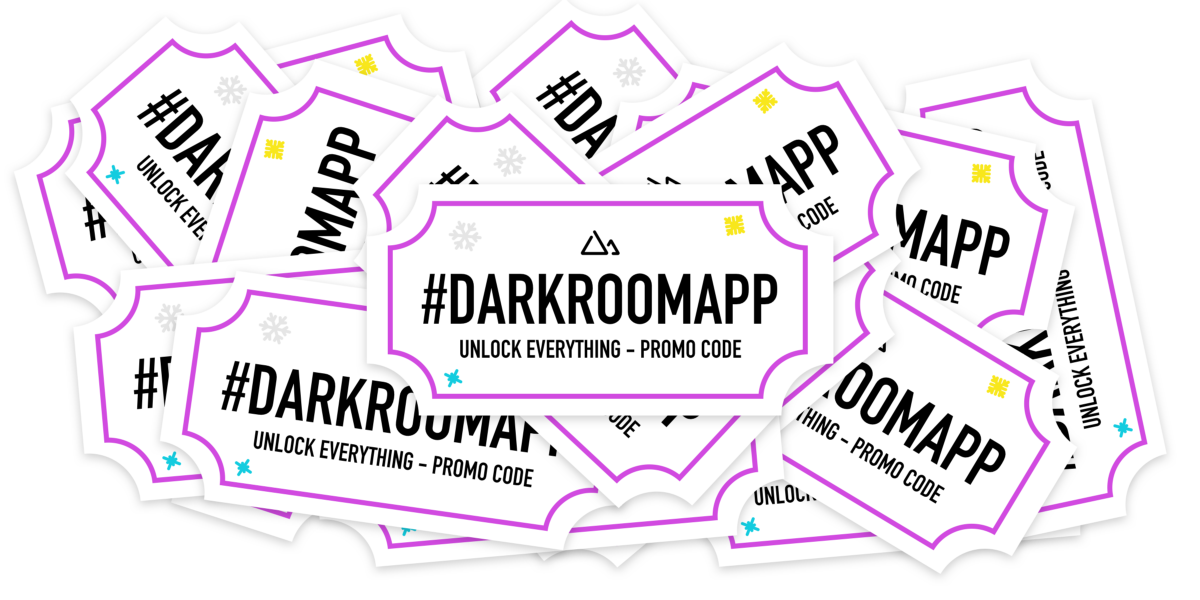 Christmas Giveaway
We're also holding a 1-week holiday giveaway. Share your Darkroom-edited holiday photos with the #darkroomapp hashtag on Instagram, and we'll give away 50 promo codes to unlock absolutely everything in the app. We'll pick the best photos and we'll DM you on Instagram to share the codes. Tell your friends! Ho ho ho!
It's been quite a year for Darkroom. Days before Christmas, looking back at the past 12 months, we can't help but take a moment to take stock of how far we've come.

Darkroom's capabilities have dramatically expanded this year. We have always been a powerful iPhone photo editing application. Yet this year we matured into a full-fledged photo-editing and management studio. We added support for RAW, Live Photos, Batch editing, Perspective, Metal 2, iPhone X, and so, so much more. Darkroom is no longer a place to only edit the curve of your photo. With batch-editing support and performance rivaling that of the Photos app itself, Darkroom is where you manage your photos too! That duality of management and editing in fact, has been our dream from inception. It just took a long time to get there. We still have miles ahead to go.
The amount of growth and the rapid acceleration in our release schedule are direct results of our massive investment in infrastructure. In 2017, we harvested the fruits of that labor, and the response has been incredible. We thank you for the amazing photos you share on Instagram, and the kind words you share on Twitter, iTunes reviews, or feedback emails. It's very rewarding to know that the work and effort we put into the tiniest details doesn't go unnoticed.
Today, we sow the seeds for next year's harvest. We have spent the past month working on exciting new features that we can't wait to put in your hands, and our product roadmap looks more and more exciting as iOS's photography capabilities continue to grow (new APIs, more power, and new image-type support). We have a lot more to say about that soon, but we will keep this update short and sweet.
Merry Christmas and happy holidays to you and your loved ones. We look forward to sharing more news with you soon. Stay tuned!
The Darkroom Team