We're excited to share the new filter tool in Darkroom, providing an easy ways to favorite, hide, reorder, and rename your filter list. The ability to create custom filters is one of the most unique features in Darkroom, and it's clearly a hit — thousands of filters are created every day! As your filter list grows however, you haven't had the tools to curate it, manage it, and clean it up, until now.
Make it yours
Favorite, reorder, and hide filter sets to optimize your library for that extra bit of efficiency in your editing workflow. If you have a filter you use all the time, you can now make it front and center in the filter tool.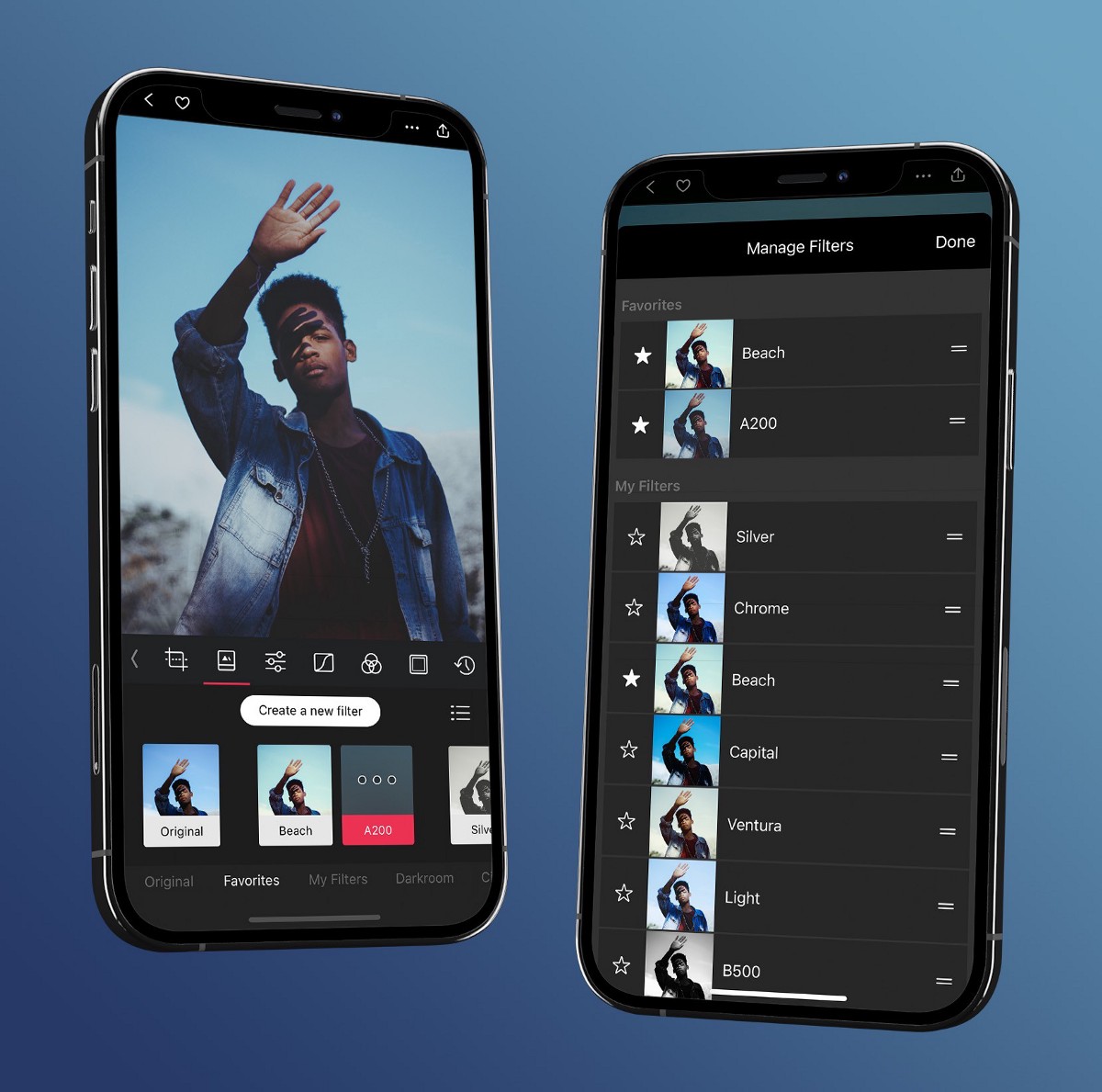 Favorite
Favorite the filters you love the most, whether your own, or one of ours. To favorite a filter, tap the ••• button, or right click on the filter to access the favorite button. For multiple filters, the new Manage interface, allows you to quickly favorite as many as you like. Favorite filters always appear first in your list.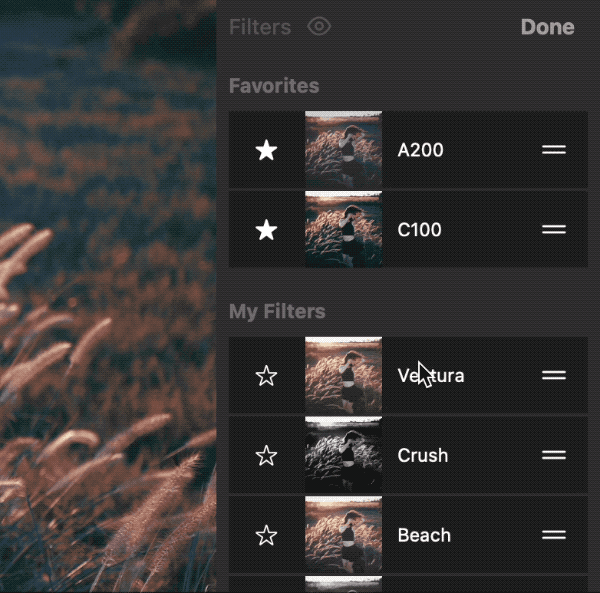 Reorder
Drag your Favorites and Custom Filters into any order of your liking to keep your most frequently used Filters within quick reach. Access all of the filter actions from Manage mode by tap-and-holding on iPhone & iPad, or right-clicking on Mac.
Hide Sets
While you are in Manage mode, hide any set of filters you don't use, enabling you to fully curate your library, making it even easier to navigate and use. Any favorite filters in a hidden set will still show up in Favorites, so you can keep only the ones you love just a tap away.
A native feel for iPad & Mac
On your iPad and Mac, you'll notice a completely new list design for the filter tool that looks and feels more native by more efficiently using the extra space of the larger displays. Additionally, we added extensive mouse and keyboard shortcuts to quickly access actions, and for quickly trying different filters and adjusting their strength, allowing you to try and tweak any of our filters quicker than you ever have before.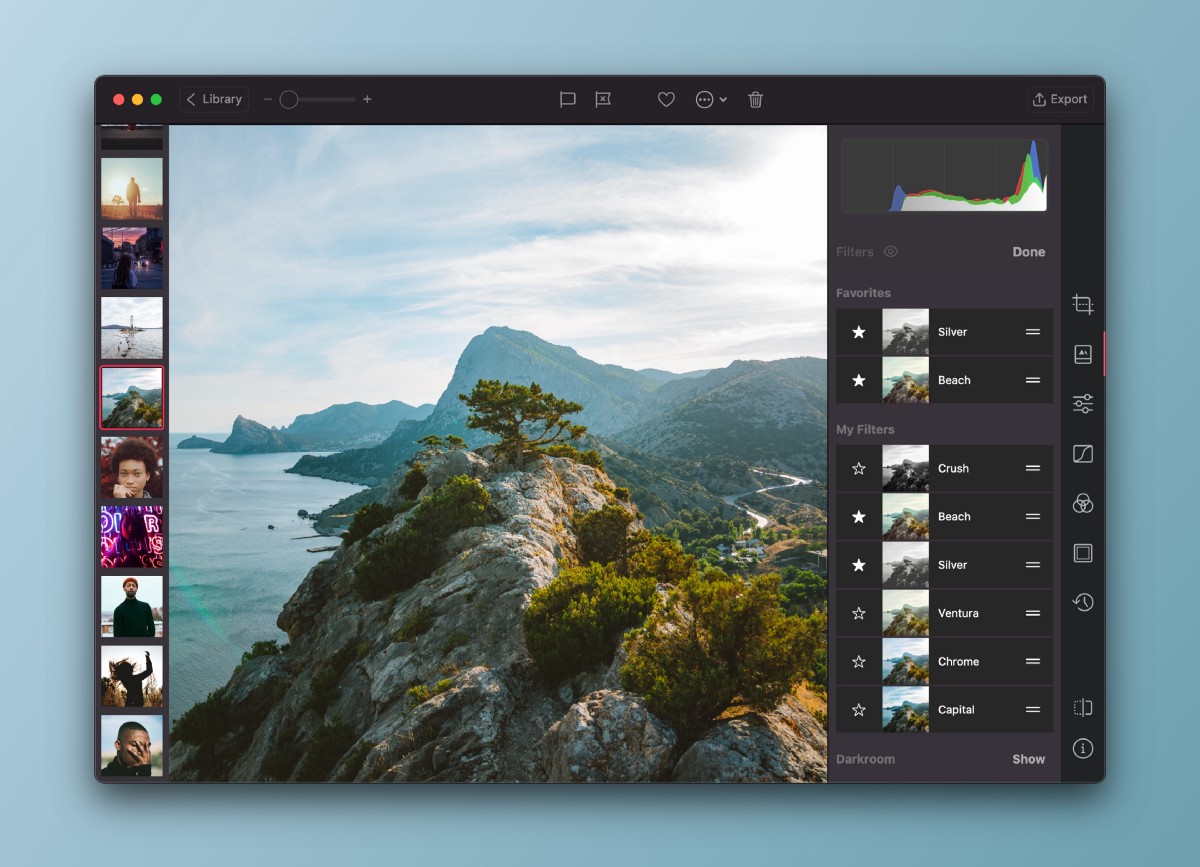 Use the 'j' and 'k' keys to move up and down the filter list. Once you've found the filter you like most you can simply use the '<' and '>' keys to adjust intensity by steps of 10%, or hold the shift key to get precise and adjust in 1% increments.
Note that this same layout is also used in landscape mode on the larger iPhones. As with all of our keyboard shortcuts, they also work on iPad when one is attached.
Pro-tip: filter backup & restore
In Settings, you can backup and restore your custom filters to iCloud. Besides enabling you to safe keep your own carefully created filter creations, this also enables you to have your filters available on your other devices (iPad or Mac) as long as you use the same App Store account!
A foundation for more to come…
This update provides us with a solid foundation for more planned improvements to our Filter tool. Allowing you to better organize your current Filter Library before we give you ways to expand it even more…
---
If there's something you'd like to see in the future please let us know by leaving it on on our suggestion board, or by sending us an email or tweet at us. For a full detailed list of all changes please visit our updates page.
As always, we're very thankful for your continued loyalty and support, and look forward to sharing everything else we have in store for you soon.
The Darkroom Team