Share your presets from Darkroom
You can now share your custom presets with anyone quickly and easily using a simple link.
Select the preset you want to share, tap on it again (•••) to view its options and you'll find the new "Share" button. From the share sheet, you'll be able to share a link to anyone, whether they have Darkroom installed or not.
Anyone with your link can preview and install your presets with a tap. That's pretty much it! There are no files to manage, host, download or import. It couldn't be simpler or more flexible.
When you install a preset, it will be added to a new "Community" preset pack in your Preset tool, where it can be used like any normal preset. We'll track how many times your presets has been installed, and how many photos and videos have been exported using them, giving you an idea of how popular your presets are.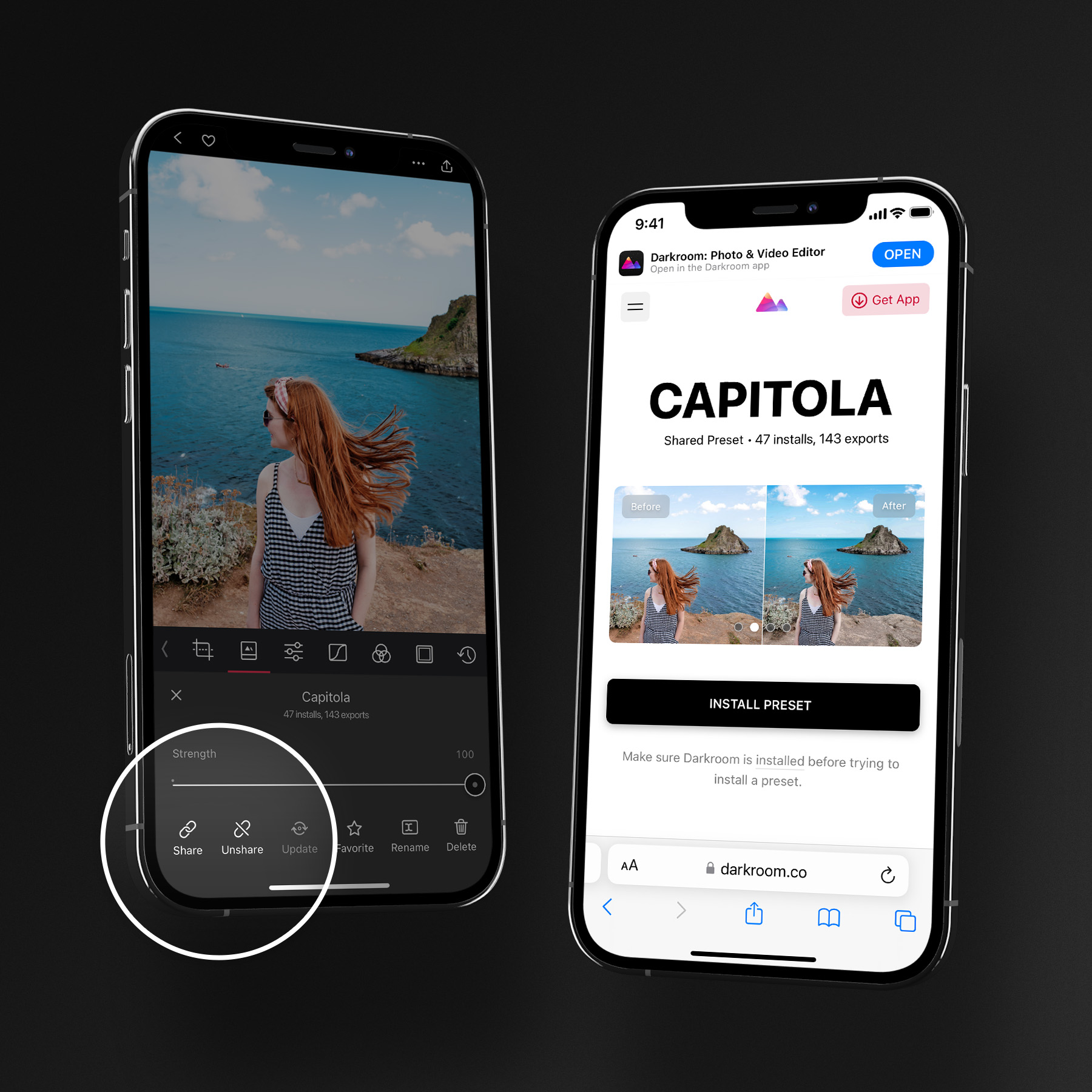 Community Preset Highlights
We asked some friends and photographers to share some of their own favorite presets to celebrate the launch and included them right here! Just tap on the "Install" button below.
The full details on Preset Sharing
When sharing a preset for the first time, we generate a set of high quality preview images using several high bit-depth and wide gamut images bundled with the app. We upload these to iCloud so anyone with a preset link can get a preview of what your preset looks like when applied on a variety of subjects, scenes and lighting conditions.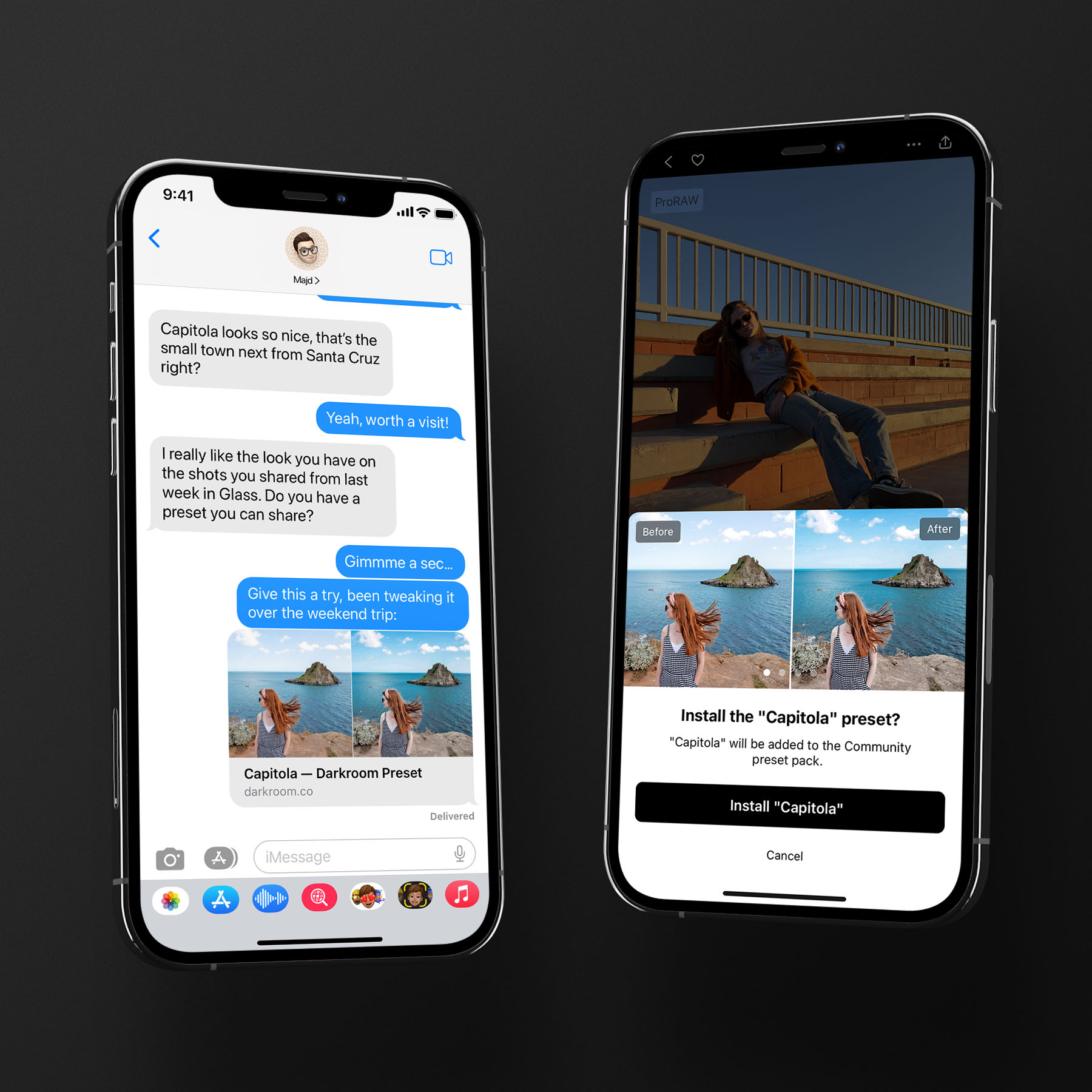 Shared presets are easily identified by the chain link icon in the Preset tool, so you know you have shared it. If you share your preset again you will instantly get the share sheet with the same URL; Darkroom won't generate and upload the preset & preview images again.
Please note that once a preset is shared, you can no longer directly update it. If you do want to update a preset regardless, you will first have to unshare it, update it, then share it again. In which case the original URL is retained. Alternatively, you can make a new preset and share it.
The preset link generated remains active and working until you explicitly unshare the preset. To unshare a preset, you can select the shared preset then tap on it again (•••) to show the Preset Options, and tap "Unshare". If you try to delete a shared preset, you will be prompted to unshare it first.
Finally, it's important to note that presets are not yet automatically synced between all your devices, so your shared presets aren't either. You can either share the link with yourself and install on your other devices, or you can use our manual preset backup and restore feature found in settings.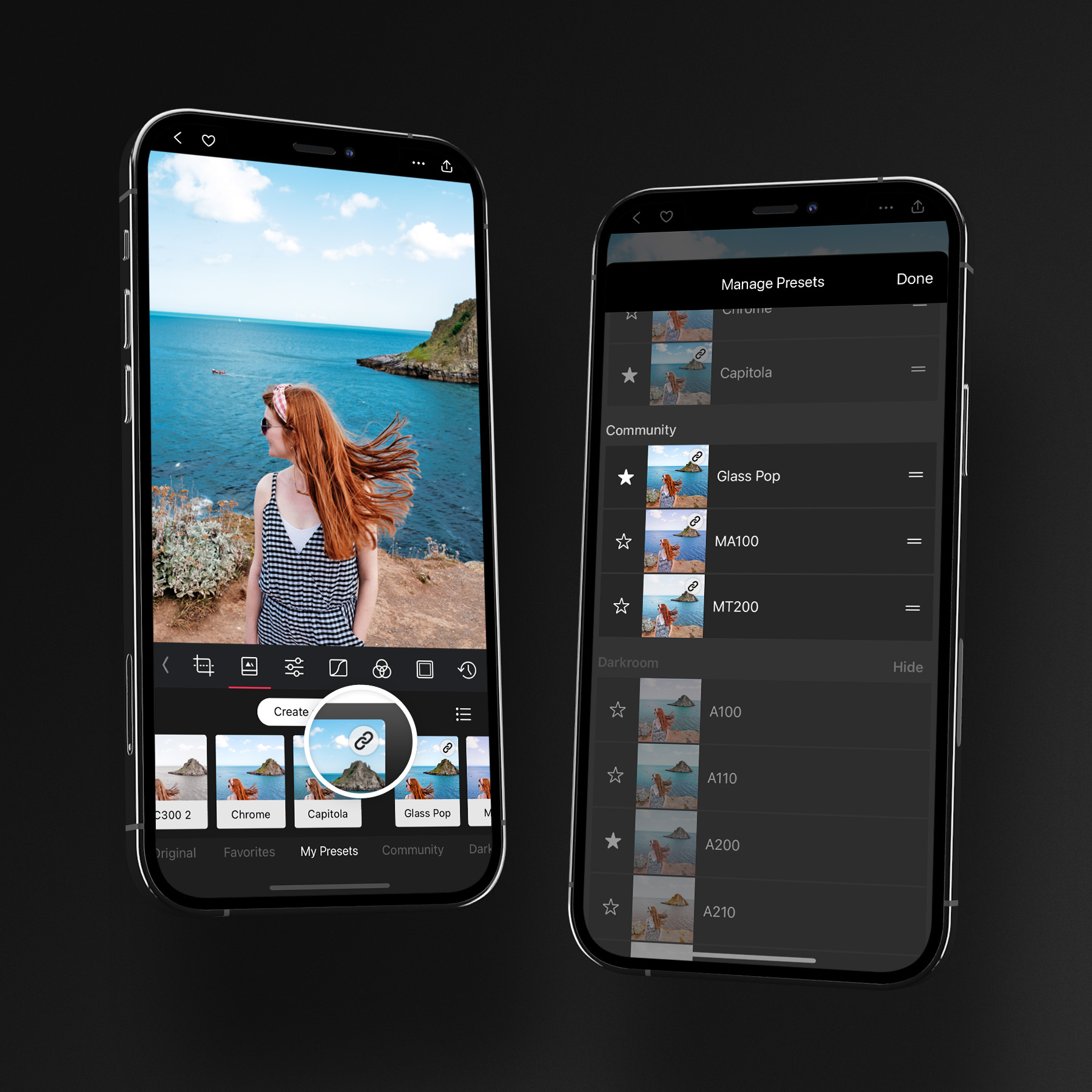 Privacy
Preset sharing does not require any type of account, and is completely anonymous. All the edits, statistics, and preview images are stored securely on Apple's iCloud's database, and we can't identify the person from their shared presets. Image statistics are also not associated with your iCloud account in any way.
In your own private and encrypted iCloud database, we track which presets you have previously shared. This ensures we don't share your preset multiple times from different devices and across installs. This data is encrypted and stored in your private iCloud database, where neither we nor Apple can access that data.
However, please remember that shared presets are public, and anyone with the link can view the preset preview images, the name of the preset, and its usage statistics online.
Pricing
Creating and sharing presets is free, regardless whether or not the presets use premium Darkroom+ editing features.
Installing presets and trying them out is also free, but if the installed preset uses premium Darkroom+ features, you have to subscribe to export images using it.
---
We hope you are all as excited as we are about finally unlocking the many many custom presets we know so many of you have created, which you'll finally be able to share with anybody anywhere. We can't wait to shine a spotlight on some of the best and most interesting presets shared In the coming weeks and months. Don't hesitate to tag or message/email us your creations! We truly hope to build a community around presets and our shared love of photo editing.
---
If there's something you'd like to see in the future please let us know by leaving it on our suggestion board, or by sending us an email or tweet at us. For a full detailed list of all changes please visit our updates page.
And lastly, we'd like to thank the talented Josh Edgoose for collaborating with us to select 4 of his shots to use as preview images for all your presets.
As always, we're very thankful for your continued loyalty and support, and look forward to sharing everything else we have in store for you soon.
The Darkroom Team