Hashtag Sets, Siri Shortcuts, Portrait HD & More in Darkroom for iOS 12
Following a long summer break in which our founder Majd Taby got hitched in the beautiful (and hot) fields of southern France, we are back with a feature-packed release.
Hashtag Sets
Darkroom for iOS 12 adds the most extensive hashtag support for mobile photographers on iOS, allowing you to export sets of hashtags to the clipboard with one tap.
Darkroom was built on the the core principle of optimizing as much of our mobile photography workflow as possible. That optimization starts with photo management, extends to editing, and ends with sharing. We think that Hashtag Sets are an huge workflow improvement for those in the Instagram community, as it greatly optimizes the last step of the editing process: Sharing.
To really make hashtag sets useful and efficient, they need to be accessible everywhere. That's why we went through the effort to make Hashtag Sets accessible system wide.
Siri Shortcuts
When you're right about to hit the post button and you realize that you forgot to copy your hashtags, the last thing you want to do is leave your context and go hunt down some note with the right set of hashtags to copy. It just takes too much effort. With Darkroom Siri Shortcuts, you can now define a custom shortcut for several hashtag sets, and instantly access it from anywhere in the system using your own custom phrase, without launching the app.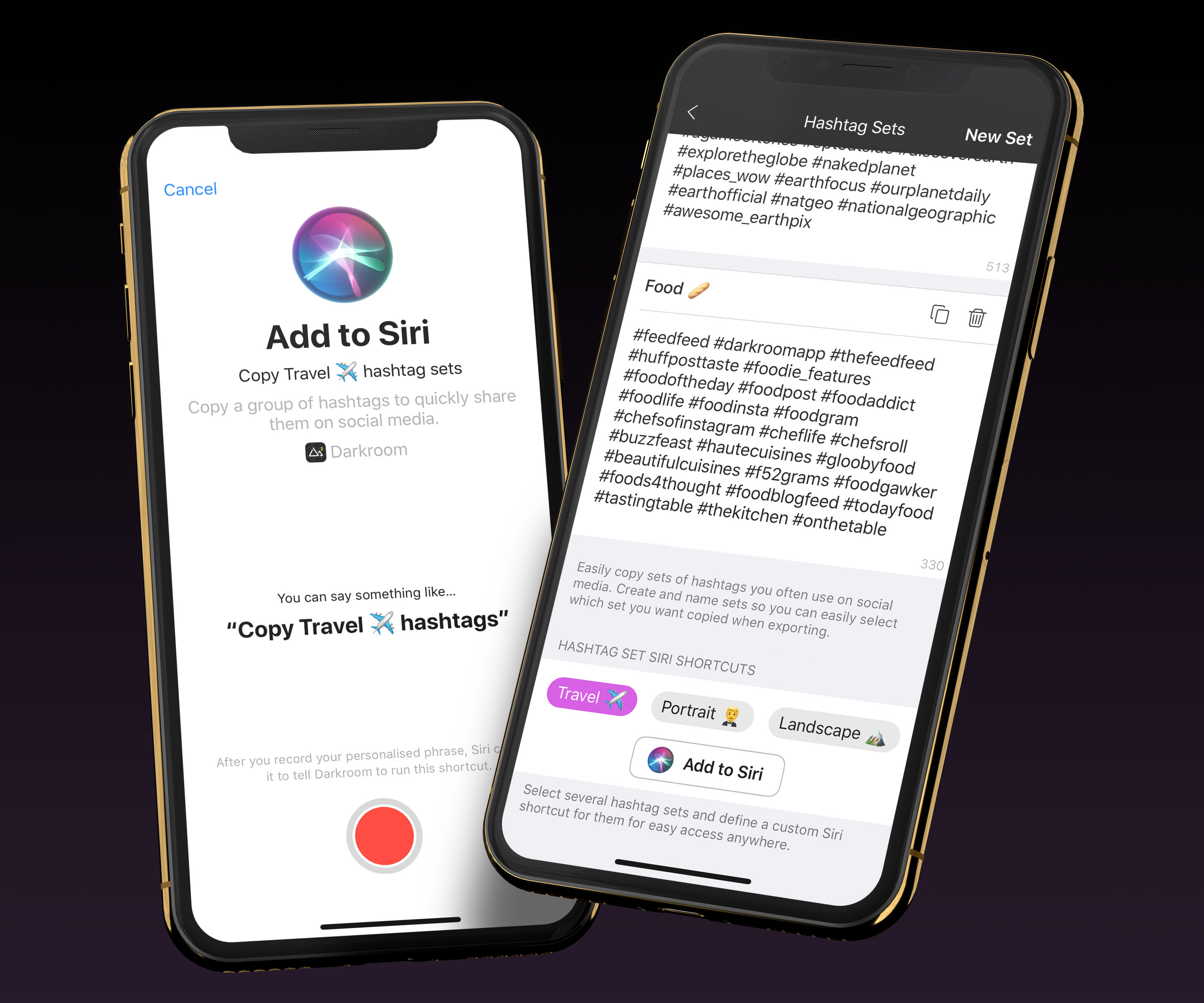 Export Option
If Darkroom is the last step in your editing process, you can now select several hashtag sets that will be copied right after your export is finished. If you decide you want to add to or change your hashtags, you can even do that without losing your context.
Today Widget
For the times when you can't speak or when you want to copy several hashtag sets, but don't want to jump into the app, there's the Today widget. You can select any of your hashtags and copy them in just two taps.
Quick Actions
In fact, our Today Widget is also accessible from the app icon on your home screen using force touch, along with some handy shortcuts to jump right into an editing session in the app for your most recent photo, or to quickly manage your hashtags.
---
Portrait HD – iOS 12
iOS 12 adds support for what Apple calls "Portrait Matte Effect". In essence, this is a High-Definition depth-map that iOS generates when it detects a face in a Portrait-mode photo that provides much sharper hair-and body contours.
When we detect the presence of a high definition portrait matte associated with the photo, we'll load it automatically, and indicate it with the "Portrait HD" badge. It's remarkable how high quality these depth maps are, particularly with their rendering of hair.
We default to showing the high-definition variant, but in certain situation, you might care less about the sharp-contours, and care more about gradual scene gradation. There's a trade-off between scene-detail and hair-detail, and we give you the power to make your own choice.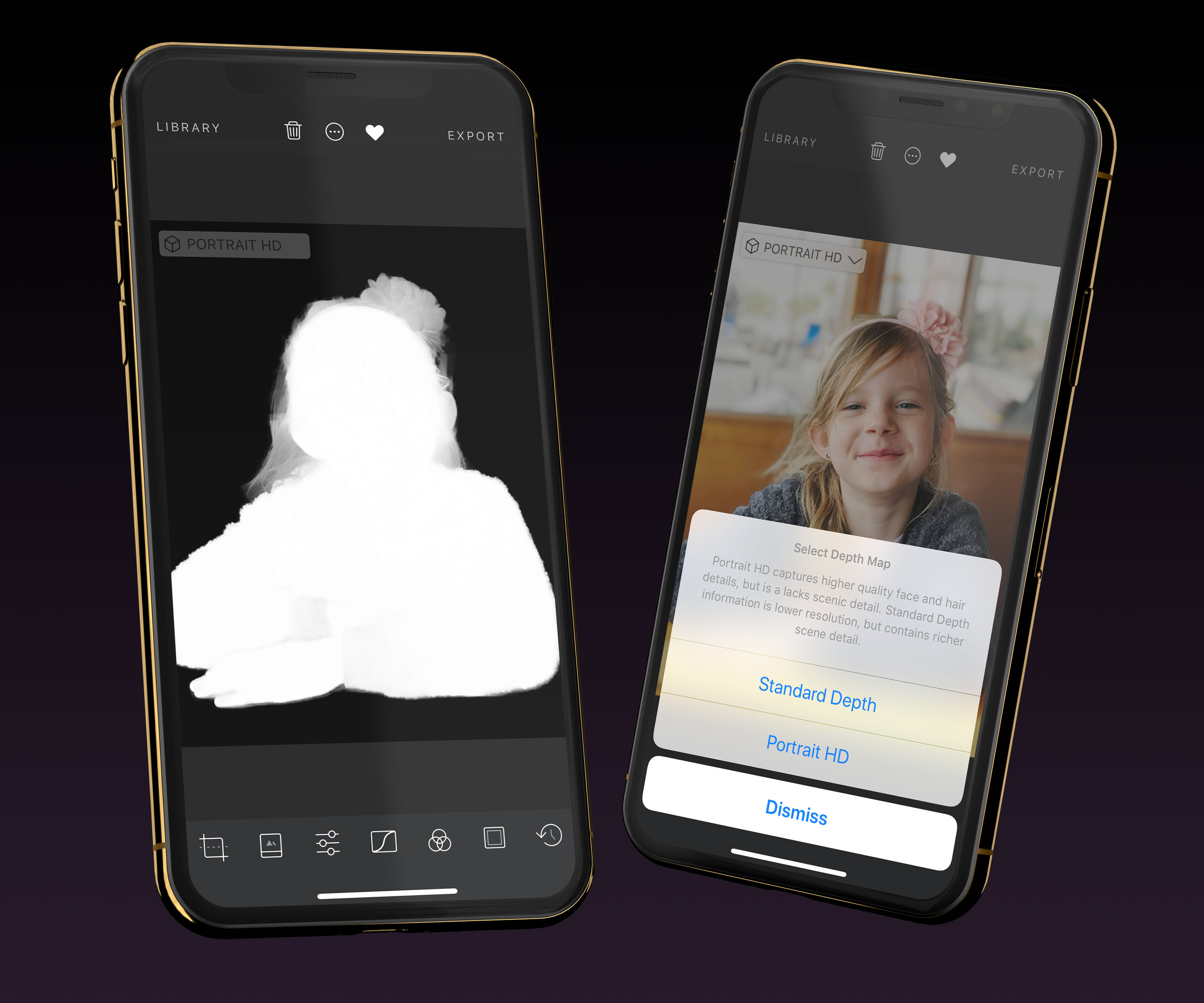 Editable F-Stop and Portrait Lighting Effect
When Darkroom launched Depth Editing in version 3.5, it was not possible to edit the background-blur of a portrait photo. To add support for that feature, we had to load the original, unedited version of the image, so that we can apply our own blur to it.
However, loading the unedited version of the image meant that any edits you had made to the photo in any other app would be lost. In iOS 12, with the addition of amazing looking editable f-stops in the Photos app, we decided that it no longer made sense to give up the support for Photos.app edits, so we have deprecated the blur slider from Darkroom on iPhone XS, XS Max, and XR. You will be able to continue to use our other Portrait foreground and background tools. And custom blur will continue to operate as-is on older devices.
Since the blur operation was computationally heavy, it made editing Portrait images much more memory and CPU expensive. With today's update, Portrait images are as fast and sharp as normal JPEGs, using much less memory.
---
App-Wide Refinements
Our commitment to refinement and quality doesn't stop with adding bleeding-edge new features. We've also taken a hard look across the app and added many little improvements throughout the app.
For a full list of changes, please refer to our updates page. Some highlights: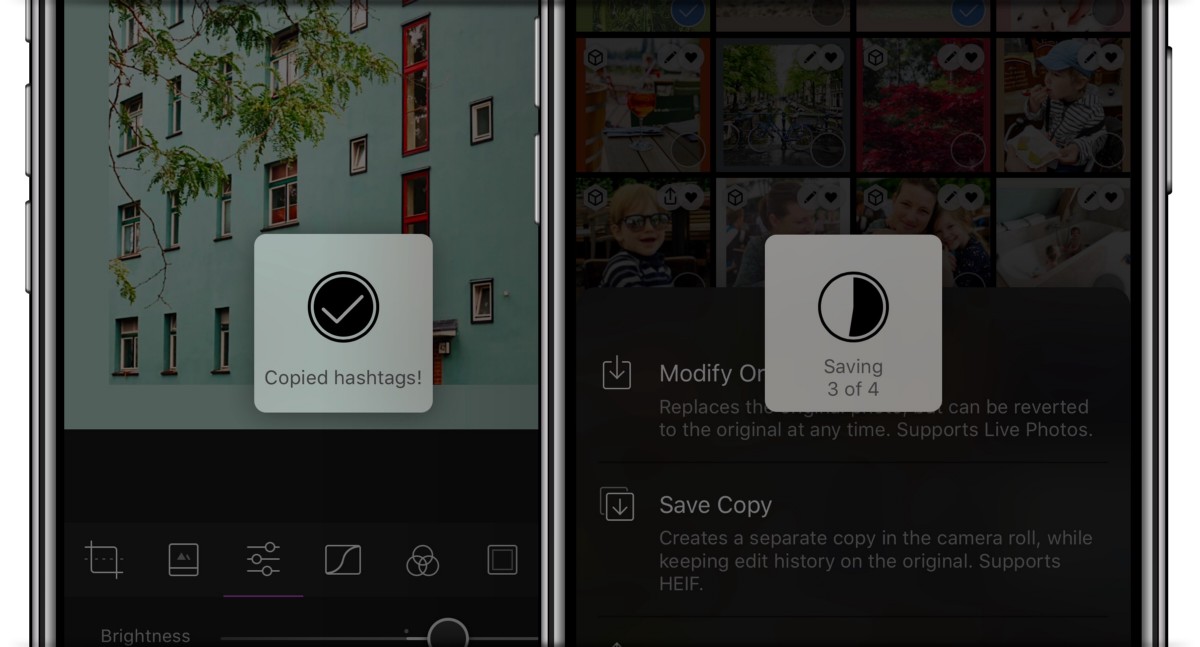 Progress & Status
We finally got around to updating one of the oldest parts of our app, the status and progress messages. They used to be either indeterminate, or text only, and often left people wondering if anything was actually happening. The new experience was completely reconsidered to be a lot more visual and provide a very clear understanding of progress. We not only report actual progress when saving photos (which can take long when you are on an older iPhone dealing with a large photo) but we also make sure to clearly indicate progress for when we actually have to download a photo from iCloud before we can actually process and save the edited photo. This makes for an especially big upgrade when using our Batch tool for exporting photos.
As an extension of the progress indication we also added status messages to clearly indicate when an export is done, with a satisfying animate checkmark. But also to acknowledge a successful action; copied hashtag sets, copied or pasted edits and so forth.
RAW Stability Improvements
We made a handful of improvements to how our RAW engine works with memory usage which significantly helped improve stability.
---
Making progress, one step at a time… The Darkroom Team