Darkroom Comes to the Mac
Darkroom is now available on the Mac as a universal app with support for the new M1 Macs, as well as Intel Macs running Big Sur.
With this update, Darkroom now provides a complete powerful workflow for mobile photographers, all the way from editing on-the-go, to the Mac at home.
Everything is updated to reflect the new macOS Big Sur aesthetic with native components like the new translucent sidebar and native window toolbars. We also optimized all interactions for mouse, trackpad, & keyboard input, sparing no detail in making Darkroom feel at home on the Mac.
Your existing Darkroom+ subscription unlocks everything on the Mac at no extra cost, and new subscribers get access to everything on iPhone, iPad, and Mac.
Please do note that today's update is only available on the Mac App Store. We're working hard on getting Darkroom updated on iPhone & iPad soon!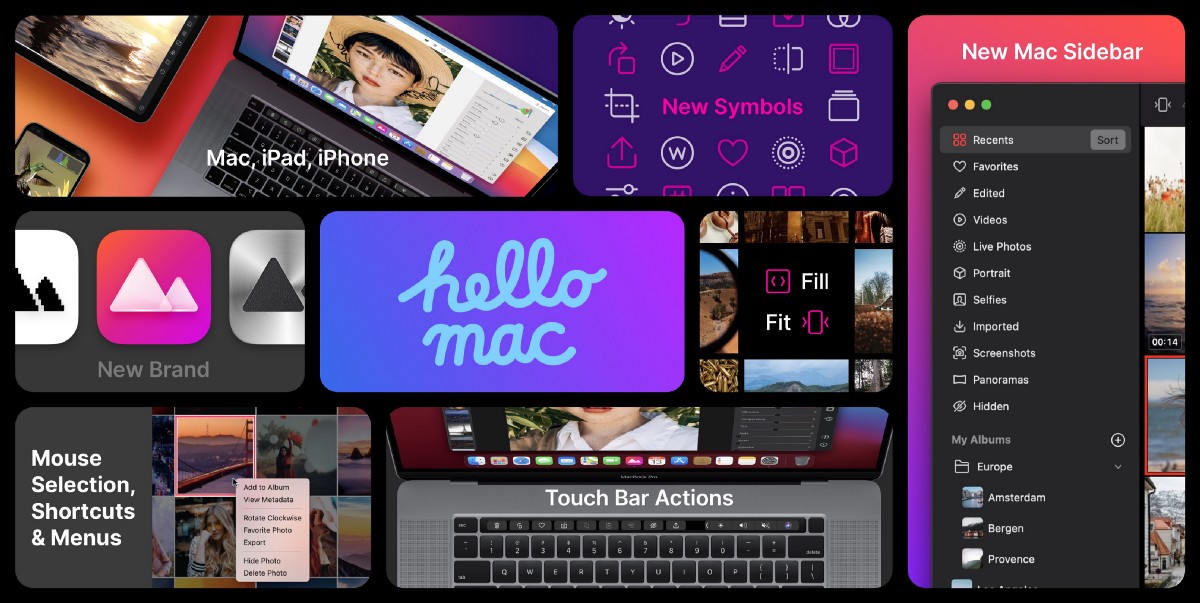 Powerful management & editing workflows, for today's cloud-based photo libraries
Many photo editing apps on the Mac are from a bygone era where images live in folders on file systems, and require a manual to use. Adobe calls this version of Lightroom "Classic". Mobile photographers however have libraries that live in the Cloud and need fast, efficient, and safe access to their photos. Darkroom on the Mac bridges the power of classic photo editing applications, with the ease-of-use and convenience of iCloud Photo Library.
Features and sliders alone don't make for a joyful experience though. You need to dig deeper to spark joy. Being a mobile-first app, we have a lot of experience doing that. We've learned how to remove all the cruft around photo editing. We're bringing all those lessons to the Mac with our no-import editing workflow and our easy to use, yet powerful editing tools. We wanted to go far beyond the basics though, and create a app that truly feels native to the Mac. To that end, we set three core principles:
Respect the platform: The Mac is the platform with a rich heritage, and we pay our due respect. The best apps offer nuanced mouse and keyboard support, have deep drag and drop integration, and provide access to the Finder. The Mac is a platform of flexibility and depth.
Streamline the edit and management experience: Importing photos takes time and effort and creates a duplicate library on your Mac. Worse, you may have to pay twice for storage. Our deep iCloud Photo Library integration means that from launch, all your photos are instantly available. iCloud support is deeply integrated at all levels of the app, and you can favorite, hide, delete, and export without creating a shadow library.
Be familiar: Designing mobile interfaces for the past 12 years has taught us that if you can't find or use a feature it's worthless. Pro-grade tools have often lagged behind consumer tools in design and usability, but we believe that's a false tradeoff. The best app should be familiar, recognizable and friendly. We have made pro-grade photo editing as fast and easy as browsing photos, and our Apple Design Award recognizes that achievement.
With all that said, let's see how we did! Here it is in all its glory!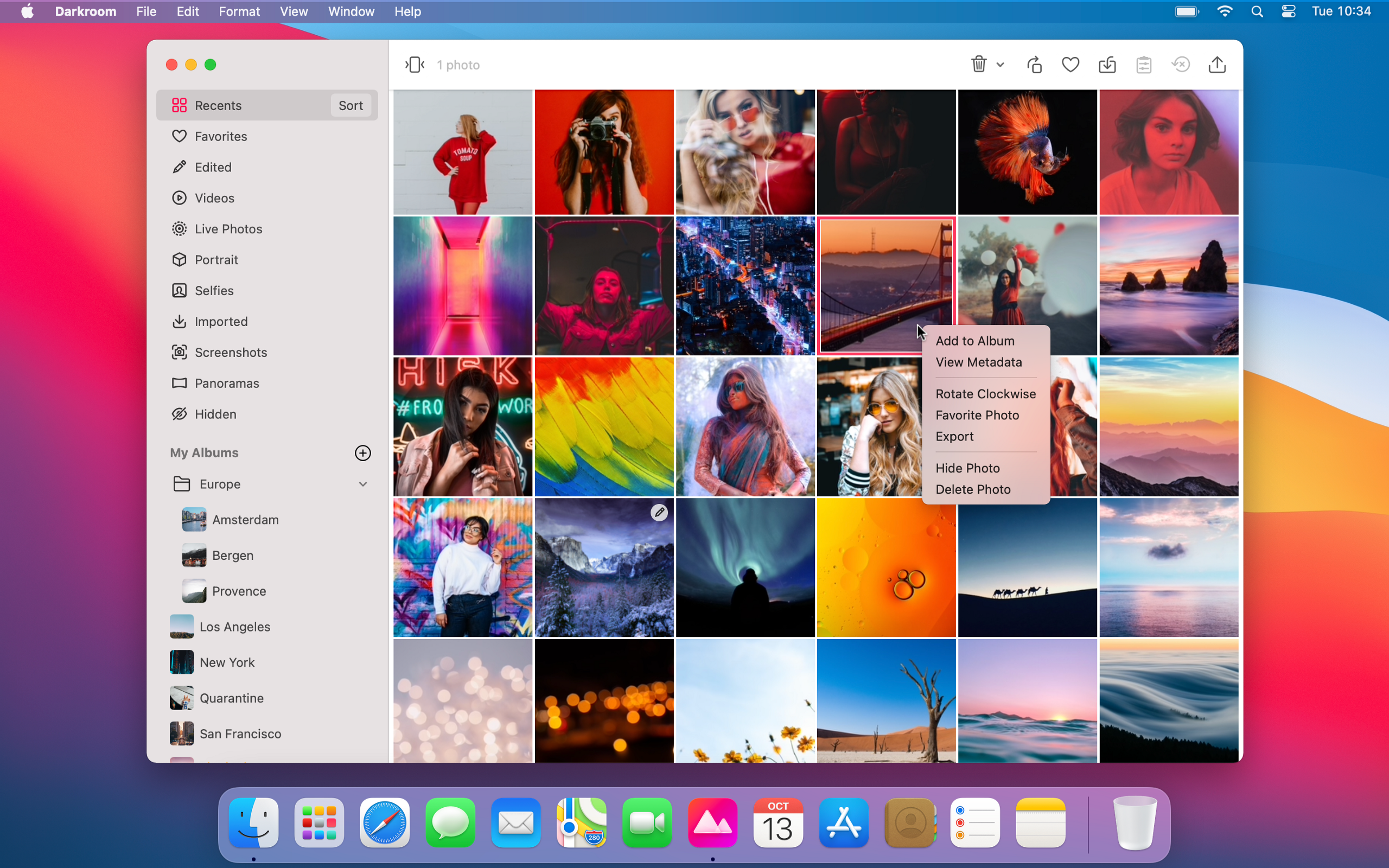 An Updated Library
The most obvious change visually to Darkroom for Mac is the library view using the new, native macOS Big Sur sidebar, and window toolbars. This, alongside drag & drop support, folder support, and mouse support, means you can perform complex library management right within Darkroom, taking advantage of native Mac behaviors.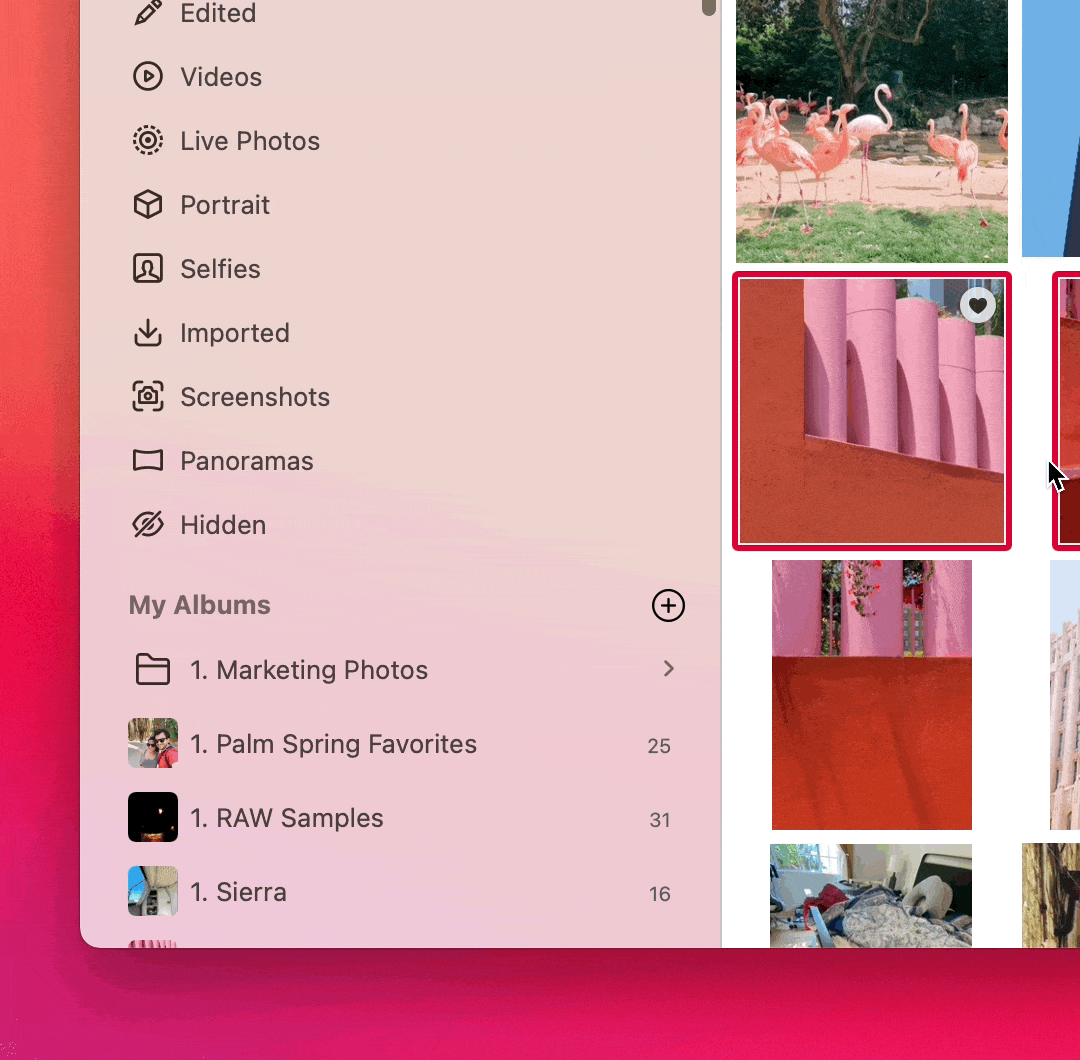 We also adapted the library interface to prioritize batch processing. It's no longer a separate mode, so it's much more efficient to quickly select a group of photos, and perform complex editing & management tasks on them.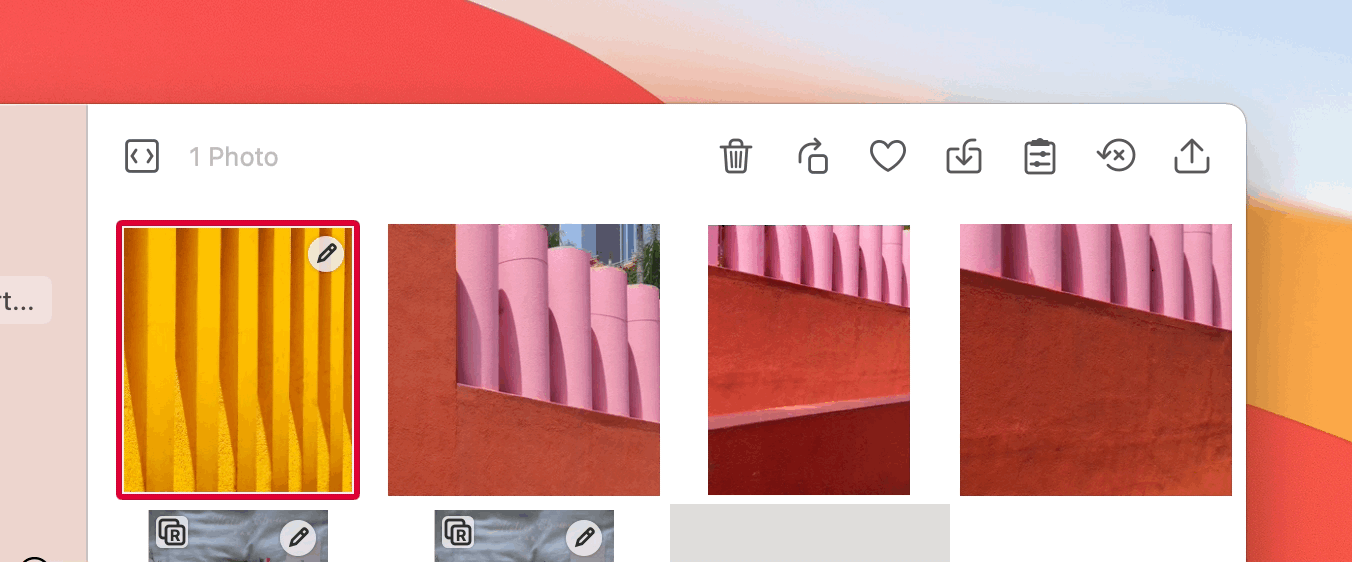 Keyboard Shortcuts, Menus, and Touch Bar Actions!
We've also expanded & updated our keyboard shortcuts to make jumping around your library even easier. Use the Mac menu system to explore the possibilities and learn the keyboard shortcuts. It works really well for complex batch processing using only the keyboard. We even went so far as to add Touch Bar support, to make managing and processing accessible at the touch of your finger, even when editing.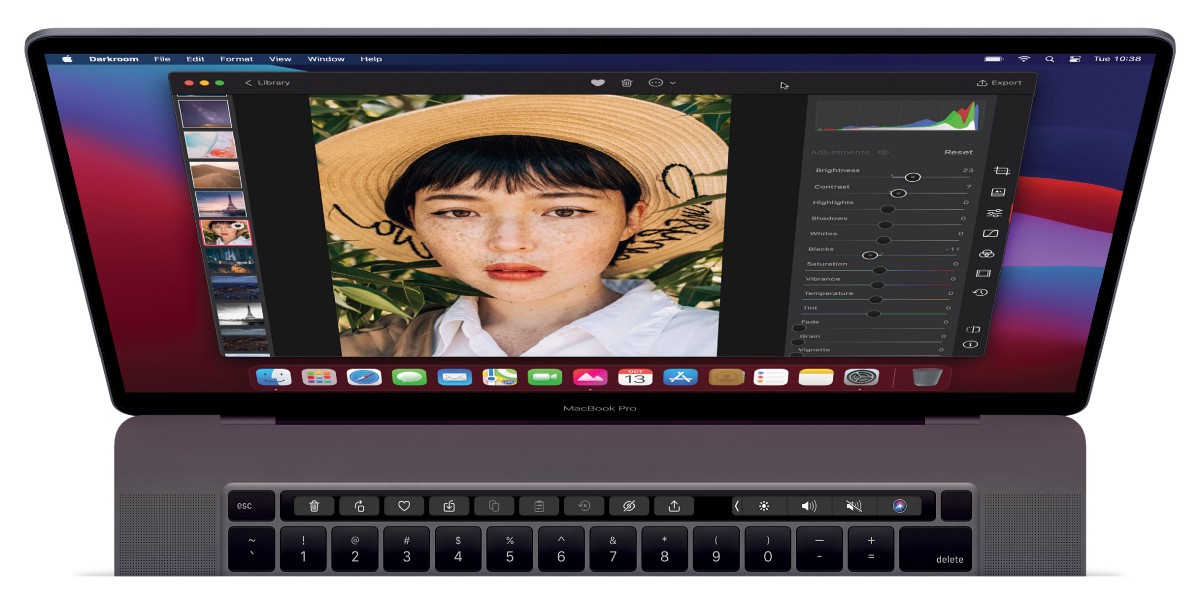 A Brand Update
Every major version of Darkroom has come with a brand update, and version 5 is no different. We've loved all our brand iterations, but as Darkroom matures and grows, and as the world changes around us we like to adapt. With this release we embraced the new, more lifelike rendering, in the style of macOS Big Sur. Our new default icon now uses an "aqua-esque" glass texturing, in a nod to the rich heritage of Mac icon design.
We also added a few additional variants for our Darkroom+ subscribers. The default icon is boldly colored, we also still have a light and dark variant, along with fun Metal and 1-bit options to celebrate major stylistic eras of the Mac.
Note: changing the app icon from within the app is not available in the Mac app. We created a page detailing how to achieve it manually!

All new symbols
As part of our brand update we also reviewed and redrew every single icon in our app. We made sure to update our icons to visually pair seamlessly with Apple's SF Symbols effort. And as a result Darkroom now looks and feels even more fresh & friendly.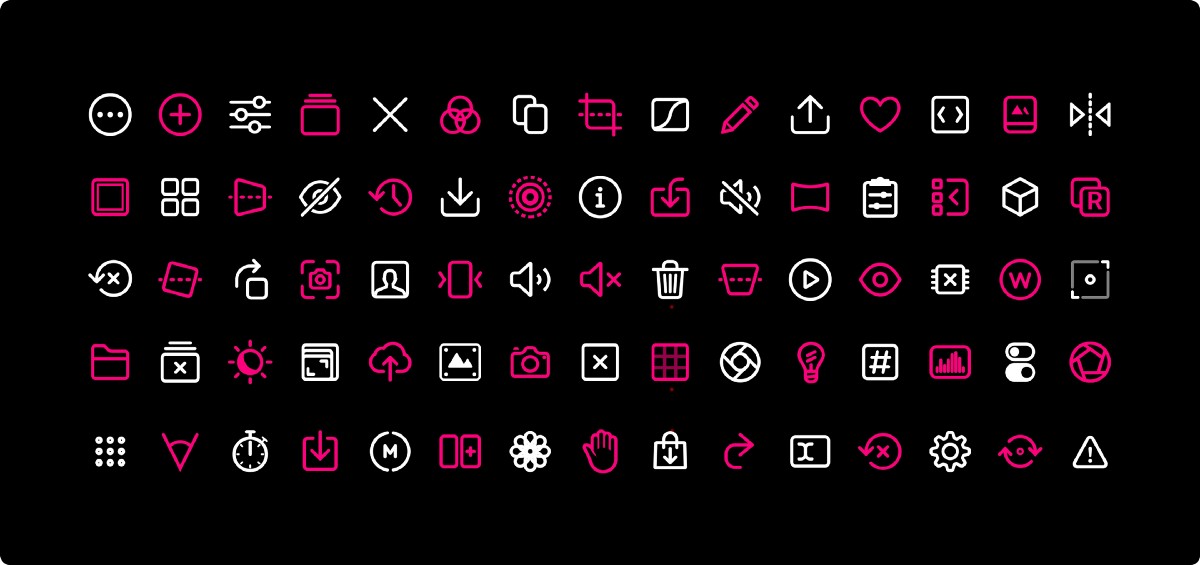 Darkroom on Mac is a major step forward in our journey, bringing Darkroom to all Apple's major platforms. We have an enormous amount of work ahead of us in the coming years, and we appreciate your support and feedback.
If there's something you'd like to see in the future please let us know by sending us an email or tweet at us on Twitter. For a full detailed list of all changes please visit our updates page.
As always, we're very thankful for your continued loyalty and support, and look forward to sharing everything else we have in store for you.
The Darkroom Team