Improved Album List in Darkroom
This update makes managing, browsing, sorting, and searching for albums 📕 and folders 📁 in iCloud Photo Library across all your devices a breeze. No more endlessly scrolling through alphabetically sorted albums without any folder structure.
Albums and folders are a fundamental tool of any organizational and editing workflow. They can dramatically speed up your work whether you're working on large projects, maintaining an ongoing photography series, or sharing stories of a trip, vacation or event.
Folders and Albums
Managing your neatly organized folders on all your devices enables you to group and categorize your albums in any way that makes sense to your workflow They make jumping around efficient, and give you a way to add structure to an otherwise unstructured stream of images. We make it easy to browse,create, and delete a nested folder hierarchy, including the ability to select multiple albums and quickly group them in a folder using a newly added context menu option.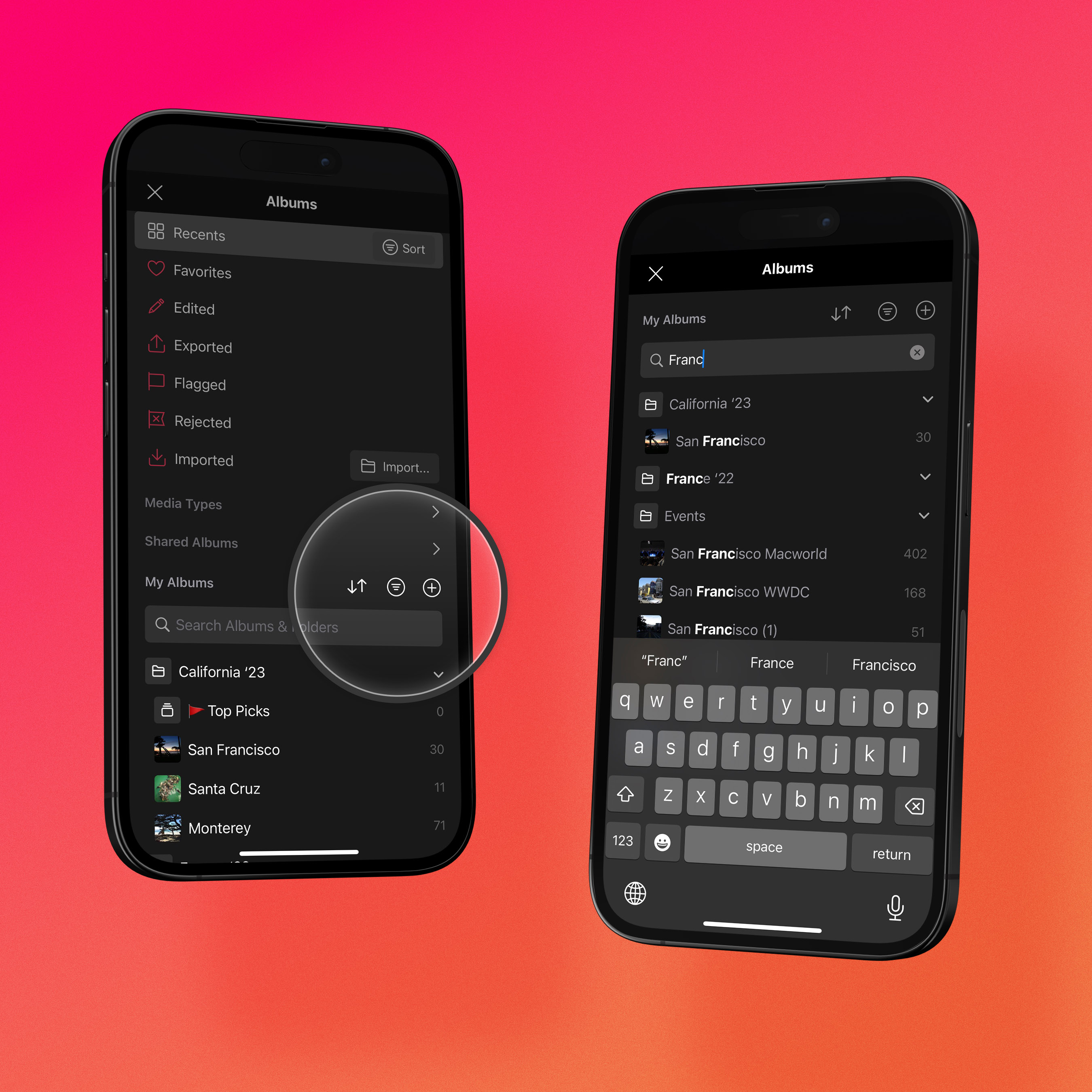 Search for Albums and Folders
Feeling overwhelmed by the sheer number of albums you've amassed over time? That's where our brand-new search functionality comes in. You can now easily find specific albums within your folders, even if you have an extensive collection and deep hierarchy. No more endless scrolling or frustration – finding that special album is now as simple as typing a few characters. Finding and rediscovering your favorite memories has never been easier in Darkroom.
Sort & Order
Now you can also drag-and-drop your folders and albums in any manual order that suits you. Additionally you can also select multiple albums and folders, or contents of a folder, and have Darkroom do the sorting for you, either alphabetically or chronologically. You name it, we will sort it.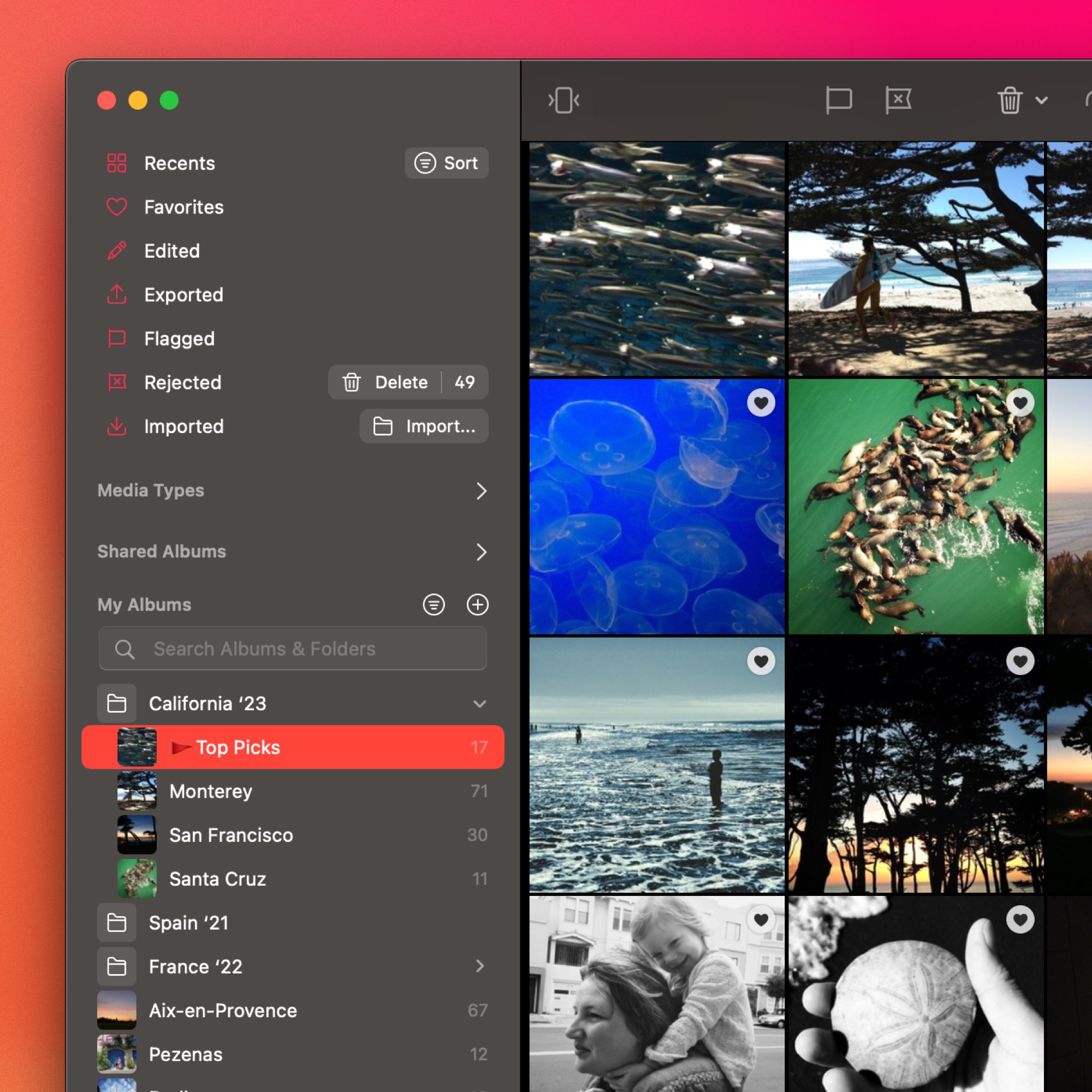 Multi-selection for convenience
Managing albums and folders can be a bit of a daunting task, especially when dealing with a large collection. That's why Multi-selection capabilities are also available for albums and folders in all the relevant places. With this powerful addition, you can effortlessly select multiple albums or folders at once, allowing you to perform bulk actions like re-ordering, sorting, moving, deleting, and even grouping several albums and folder into a new folder. We worked hard to say goodbye to tedious, one-by-one management and enjoy the convenience of bulk management on all your devices.
Keyboard Shortcuts
Navigating your photo collection is now just as easy with your iPad or Mac keyboard as it is with your finger or trackpad. You can use the Tab ⇥ key to switch views, use your arrow ↑ ↓ keys to navigate between your albums and folders, use the new Command ⌘ + F shortcut to start a search for you albums and folders. Once you've started a search, you can use the arrow keys to select the desired result. Enabling you to navigate, select, and search your entire photo collection without having to touch your screen or trackpad.
On Mac we also made sure to redesign the album list to match the new look and feel, with thinner icons and rows. And you can now also collapse Media Types and Shared Albums categories to keep your list shorter and tidy. We hope you enjoy the attention to details as much as we do.
Known issues
Unfortunately, due to constraints in iCloud Photo Library, the sort order of the albums in Darkroom will not match what you see in the Photos app, nor in other 3rd-party applications.
Furthermore, changes made outside of Darkroom won't be reflected in Darkroom until you restart the app. We hope these issues can get sorted in a future update of the operating systems.
---
If there's something you'd like to see in the future please let us know by leaving it on our suggestion board, or by sending us an email or tweet at us. For a full detailed list of all changes please visit our updates page.
As always, we're very thankful for your continued loyalty and support, and look forward to sharing everything else we have in store for you soon.
The Darkroom Team