Leica FOTOS and Darkroom Integration
If you're a Leica photographer, congratulations are in order not only because you have impeccable taste, but because your mobile photography just got a major upgrade with our new integration with the official Leica FOTOS app, available today on iOS and iPadOS.
As admirers of Leica's passion for creating unique images and commitment to quality and expert craftsmanship in both digital and analog cameras, we are honored to collaborate with them to provide an even better mobile photography workflow for photographers.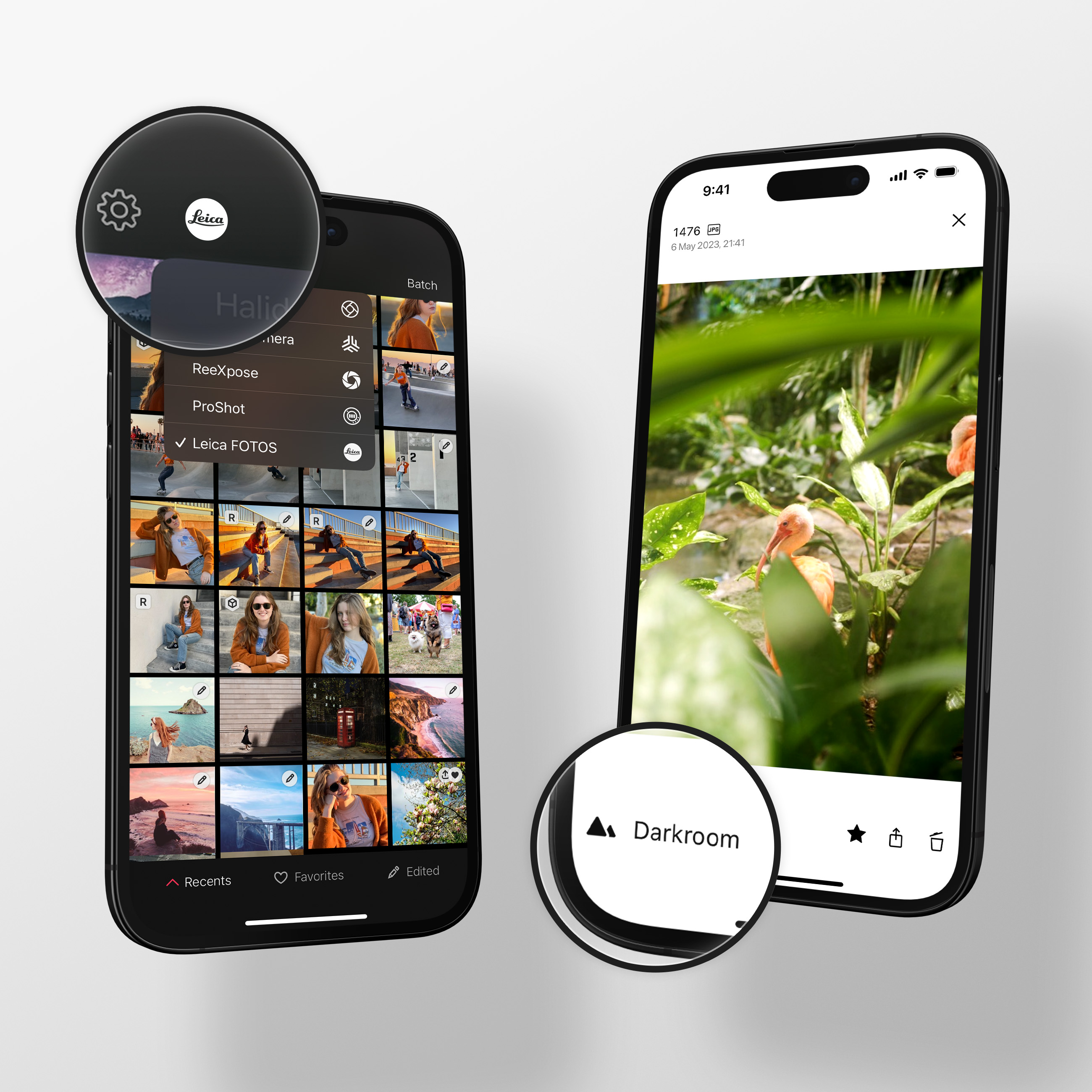 This latest integration with Leica FOTOS app on iPad and iPhone allows for a seamless photo editing process. Photos captured with a Leica camera can be easily and wirelessly transferred to your Apple device's photo library and edited using Darkroom's powerful tools in one continuous flow.
Now, the Leica FOTOS 4.0 app update will display the option to open and edit a photo in Darkroom when viewing a photo. Similarly, Darkroom 6.3.12 will display the Leica FOTOS app icon at the top of the Library if you have it installed. You can manage multiple camera apps from settings, or by tapping and holding on the camera app icon at the top of your photo library.
We are excited to bring our seamless editing capabilities to Leica photographers and are dedicated to continually improving the workflow experience for all users. With our user-friendly interface, mobile-optimized workflow, and advanced editing features like Color Grading, AI-Powered Masks, and Community Presets Darkroom makes it easy for photographers to elevate their photos.
To celebrate the occasion we also included three new app icon variants available to our Darkroom+ members for their textural enjoyment: Red Dot pays homage to the craft of Leica, Highlight pairs with our previously released Shadow, and Macintosh is a nostalgic and skeuomorphic nod to the granddad of modern computing.

---
How is the new Leica Q3?
Leica also introduced the new Q3 camera today, featured in the shot at the top! They where kind enough to give us early access, and it's an incredibly enjoyable camera to use, just like it's predecessors it's an amazing combination of portability, image quality, user-friendliness, and classic Leica M rangefinder looks. Its compact size and fixed lens make it super easy to carry around, and the image quality it produces with the new 60 MP sensor is exceptional, with rich, vibrant colors and excellent low-light performance. The camera obviously works seamlessly with their Leica FOTOS mobile app, which is hands down the best in the industry. Allowing us to easily transfer and share images, as well as remotely control the camera's settings, and now it also integrates with Darkroom for quick editing.
---
If there's something you'd like to see in the future please let us know by leaving it on our suggestion board, or by sending us an email or tweet at us. For a full detailed list of all changes please visit our updates page.
As always, we're very thankful for your continued loyalty and support, and look forward to sharing everything else we have in store for you soon.
The Darkroom Team