Discover Darkroom Community Presets
Introducing Darkroom's Community Preset Discovery — a powerful new tool that lets you easily explore the many new presets created by the talented photographers that edit in Darkroom. Whether you're an amateur or professional, you'll find a treasure trove of presets to elevate your photography and expand your creative expression. With seamless integration, everything you need is available in Darkroom, making it even more efficient and fun.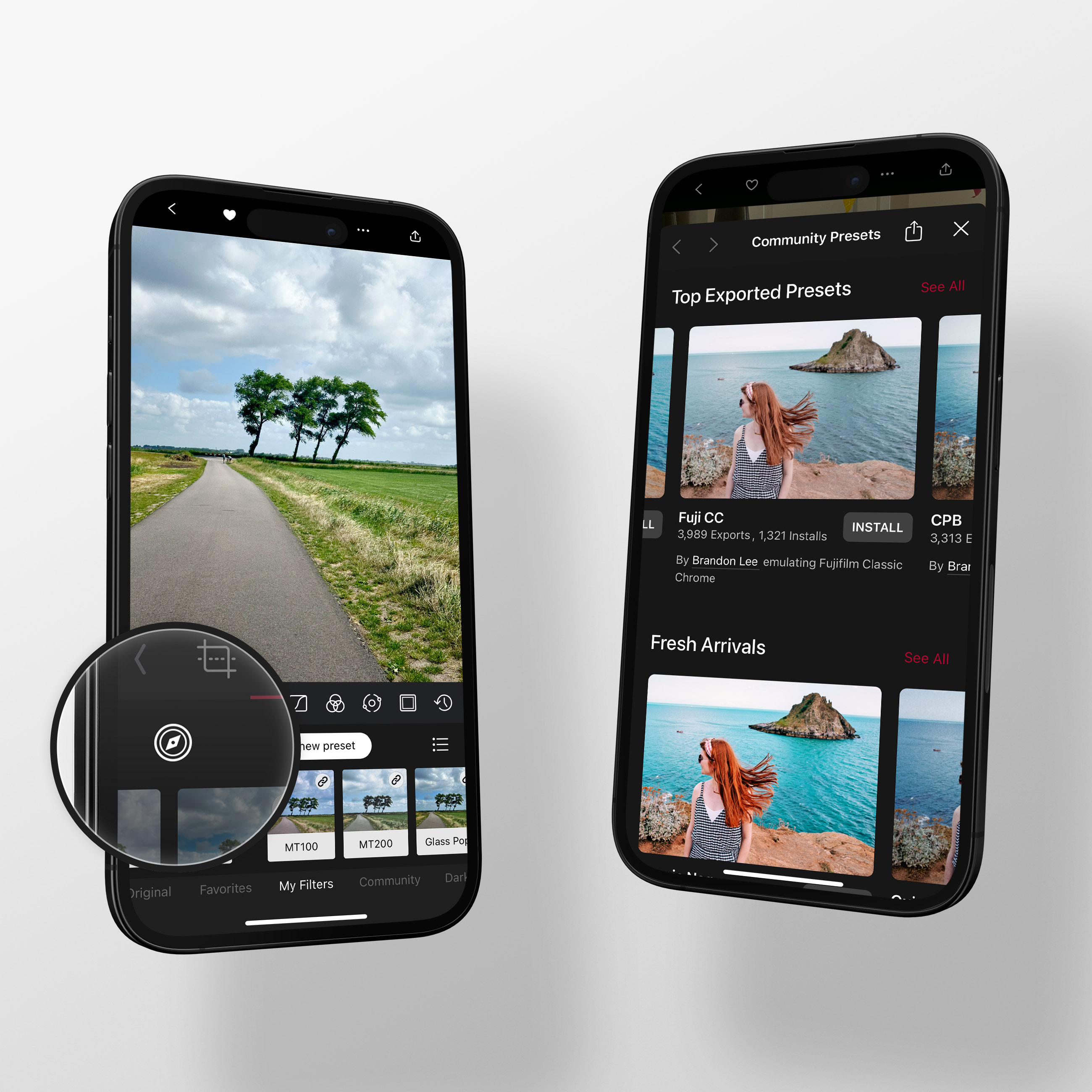 In the preset tool you can discover community presets by tapping the new compass icon, which will open up Community Presets Discovery on your iPhone, iPad and Mac. And it's also available on the web if you go to darkroom.co/presets, making sure that finding new presets is accessible inside and outside of Darkroom.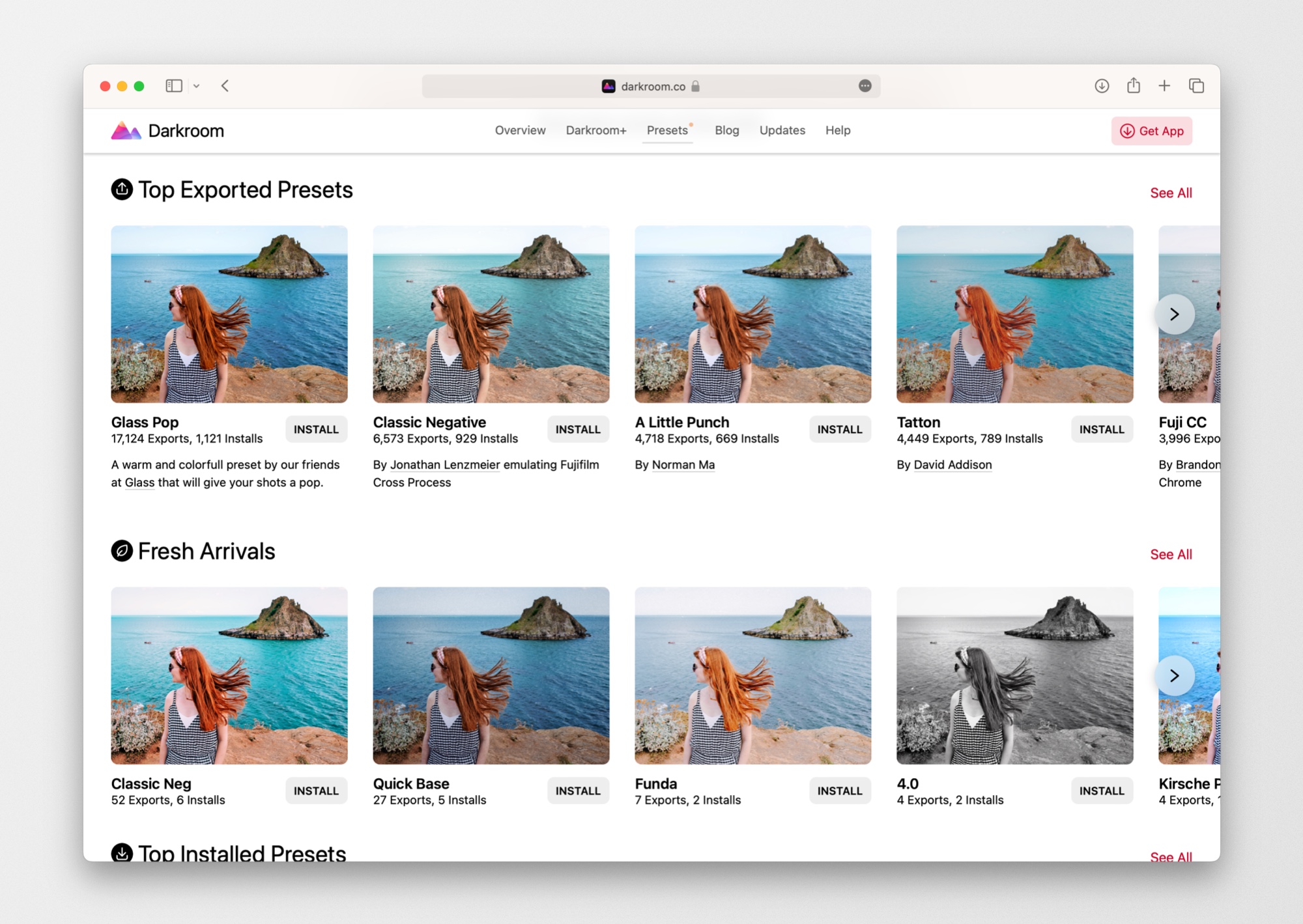 Community Preset Discovery builds upon the previously released Preset Sharing feature, which allows everybody to create and share their custom presets using simple sharable web links. Now, we've put all those shared presets right at your fingertips.
To help discover, we created several dynamic preset collections to help you find a look that best fits your shots.
Top Exported: Discover the popular presets that photographers worldwide are frequently applying and exporting.
Fresh Arrivals: Be the first to access shared creative community presets. It's been exciting to see all of the amazing new presets being shared.
Most Installed: Explore the presets that have been installed and tried the most. Many of us don't always share or export our photos, so it's interesting to see the differences compared to the Top Exported category.
We've also have two hand-curated collections of presets:
Analog Film Favorites: Quickly access the best vintage look with these carefully crafted presets that replicate the look of analog film.
Independent Favorites: Discover unique and distinctive styles that will make your shots stand out.
Create and share your custom presets
In Darkroom you can craft your unique look, by making adjustments in any tool, and with the help of creating a preset in the preset tool have your look ready to apply consistently in a snap. You can even share your presets with your friends and the world, by simply sharing your custom presets with anyone quickly and easily using a simple web link.
Select the preset you want to share, tap on it again (•••) to view its options and you'll find the "Share" button. From the share sheet, you'll be able to share a web link to anyone, whether they have Darkroom installed or not.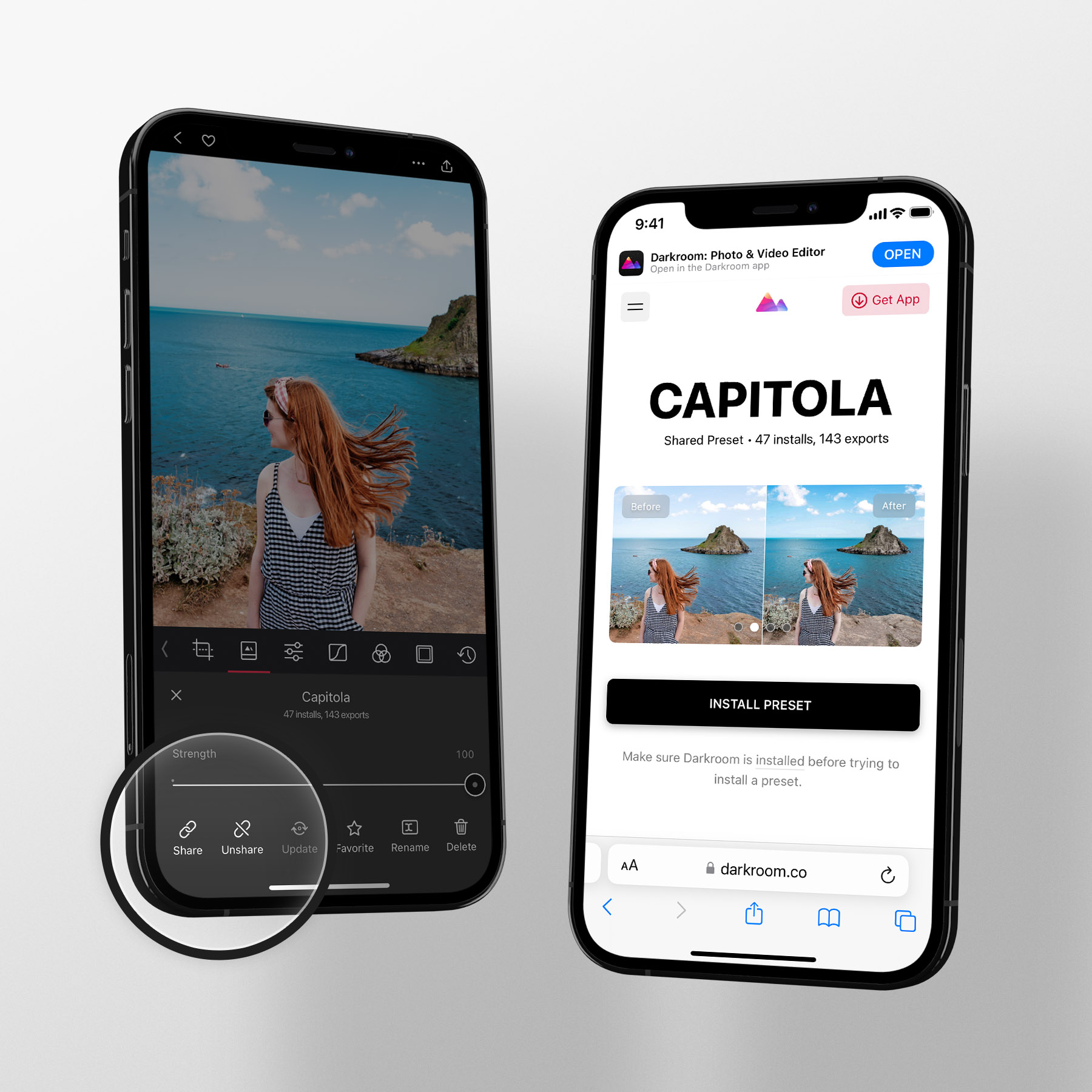 Anyone with your link can preview and install your presets with a tap. At the same time your shared preset will also become available for display in Community Presets. That's pretty much it! There are no files to manage, host, download or import. It couldn't be simpler or more flexible.
Manage your preset list
As your preset list will likely grow by installing some of the new community presets, and your own creations, being able to curate your list becomes a necessity in order manage it, and clean it up. The preset tool provides easy ways to favorite, hide, reorder, and rename your preset list. To learn more head here to read the "Manage Presets" release post.
---
If there's something you'd like to see in the future please let us know by leaving it on our suggestion board, or by sending us an email or tweet at us. For a full detailed list of all changes please visit our updates page.
As always, we're very thankful for your continued loyalty and support, and look forward to sharing everything else we have in store for you soon.
The Darkroom Team