Black Friday Week Darkroom+ Sale
We are excited to offer you an incredible 50% discount on your first-year subscription to Darkroom+. Instead of paying $32.99, you can get it for just $16.49 for the first year. Darkroom+ comes with a suite of premium features that will unlock a world of endless possibilities and elevate your creativity. Yes, you heard it right - all of this at half the price! This is by far our biggest offer ever, and we are not waiting for Black Friday to start. We are launching the sale a full week early because who likes to wait?
Friday November 17th until Monday November 27th
Our Black Friday Week sale will run for a limited 10 days only. Set a reminder, mark your calendar, and get ready to dive into a world of endless possibilities with Darkroom+. Trust us, you don't want to miss out on this and make sure to take advantage of this massive deal during our Black Friday Week before the turkey hits your table this Thanksgiving.
What do I have to do?
It's simple! Make sure to download the latest version of Darkroom (6.6.3) and follow the steps in the app to become a Darkroom+ member. No need to remember or apply any promo codes. We'll also remind you about the Black Friday Week offer in the app. Alternatively, tap or click the button below to open the membership step in the app directly.
Become a Member
Spread the Word!
Don't keep this incredible deal to yourself! Share the news with your fellow mobile photographers, friends, and family. This is the perfect and very affordable opportunity to join our Darkroom+ membership.
---
Darkroom+
Darkroom+ is our membership that provides access to the growing bundle of already 9 premium features. Whether you want to add a distinct style, make precise adjustments, or manage your photo library efficiently, Darkroom+ has you covered with its collection of premium features.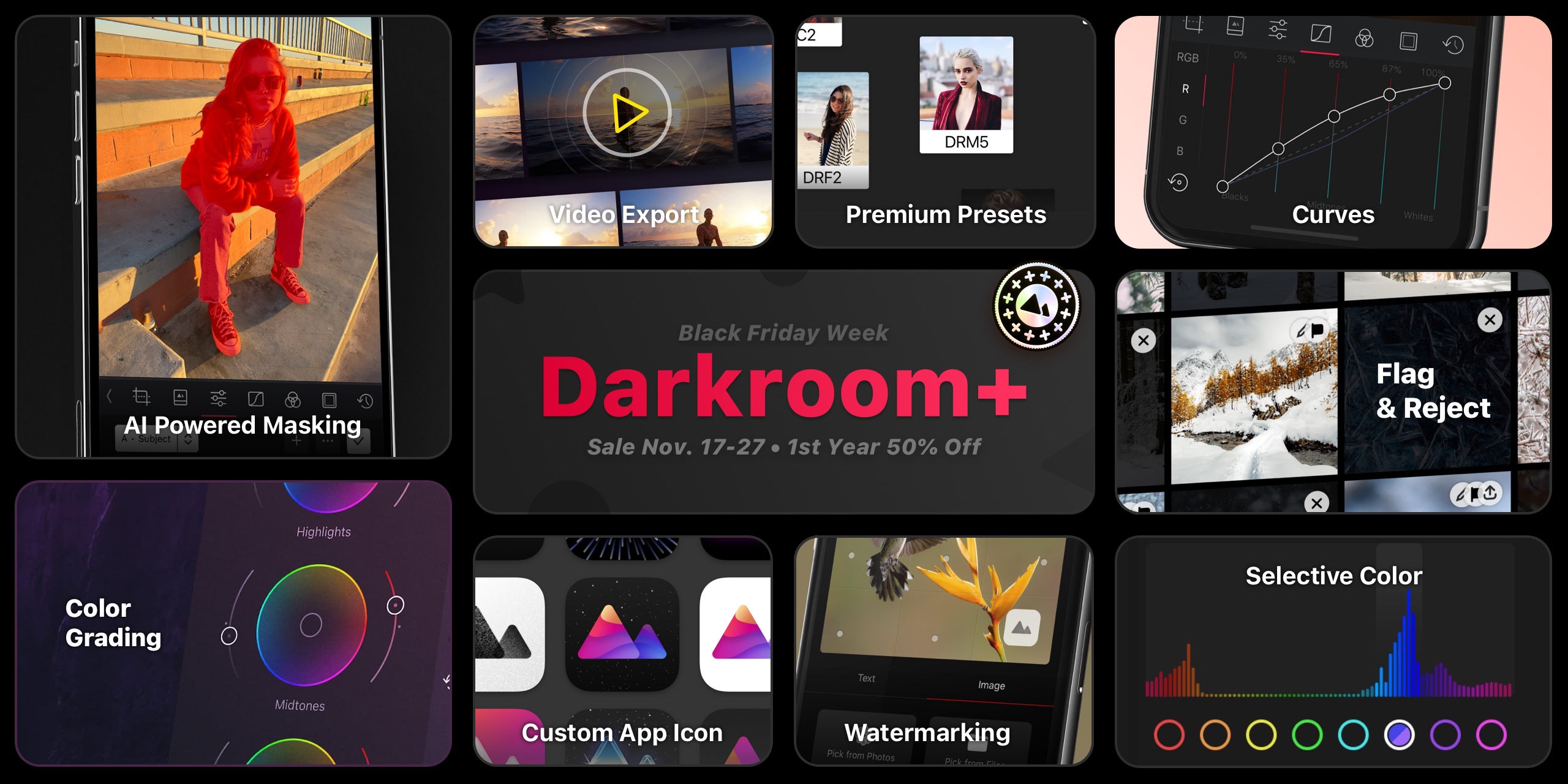 With Color Grading, AI Powered Masks, Video Processing, Flag & Reject, Curves Tool, Selective Color, Premium Presets, Watermark, and Custom App Icon, you will have toolkit ready to transform your photos on the go without the hassle of complex legacy software.
Don't miss out on this incredible opportunity to elevate your creativity and unlock endless possibilities with Darkroom+!
New to Darkroom?
Whether you're a seasoned shutterbug or just casually dipping your toes into the world of mobile photography, Darkroom offers a comprehensive suite of foundational tools beyond Darkroom+ that cater to all your photo management and editing needs.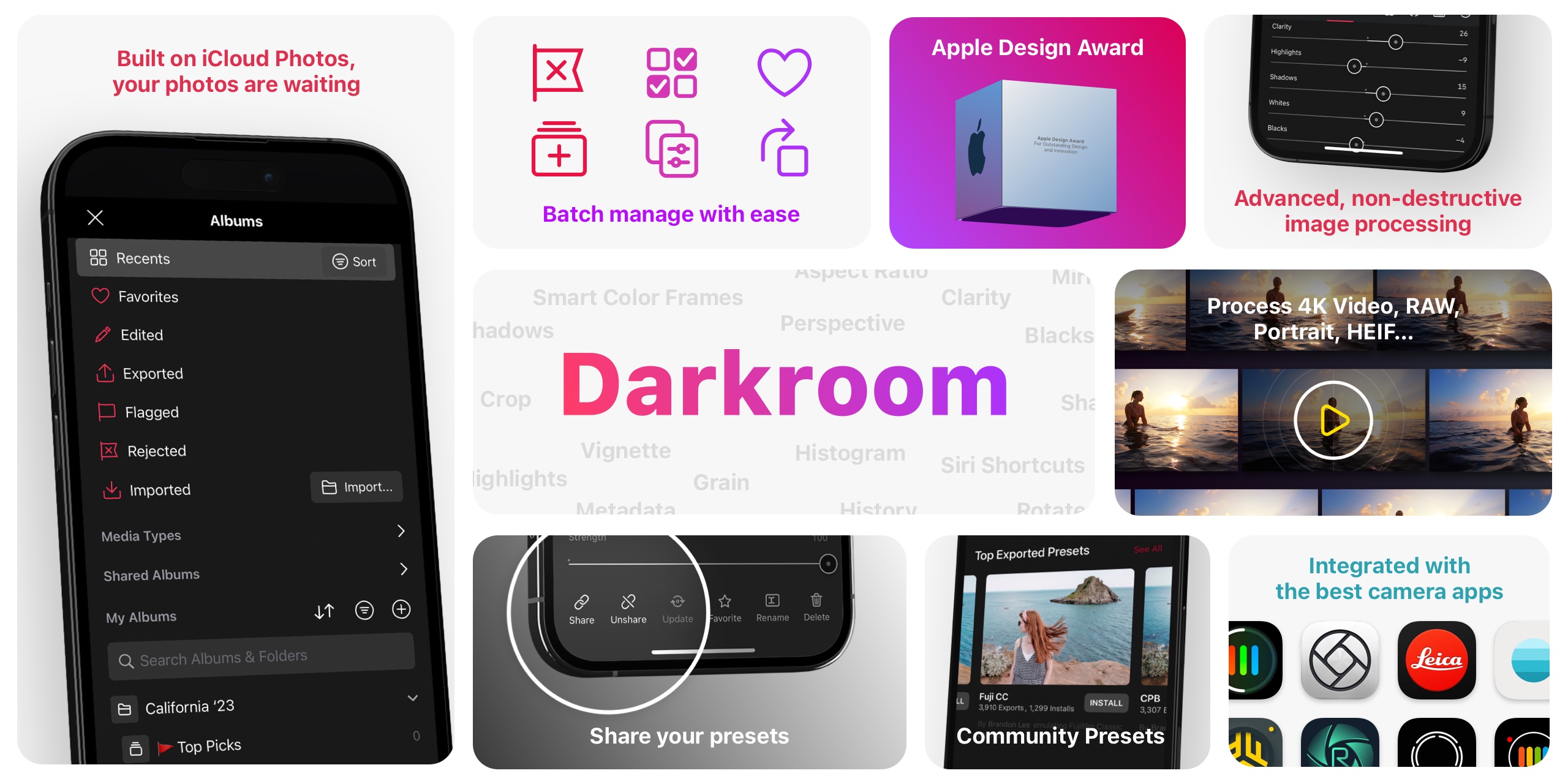 Manage: Darkroom seamlessly integrates with Apple iCloud Photos, so all your memories are already there, waiting for you. So you can effortlessly import, browse, and organize your growing photo library. Plus, the intuitive interface means you can view, edit, and manage your photos, albums, and folders across iPhone, iPad and Mac with familiar ease.
Select: Dive into your photo library and the confidently curate. With Darkroom you can efficiently swipe and edit through your collection. Use the batch feature to speed up the process. Keep what captures your heart, and effortlessly discard what doesn't make the cut.
Adjust: Unleash your inner artist with Darkroom's professional, non-destructive adjustment tools and broad file format support. Embrace the power of state of the art tools like Clarity and Highlight & Shadow recovery, and the wealth of Community Presets to make your photos stand out. Even better, share your own unique presets with the world or apply your favorite edits to multiple photos with just a few taps. And for that extra flair, add colorful frames or conveniently export your shots for social media stories.
Export: Ready to show off your work? Darkroom makes it a breeze to share your beautifully crafted photos, videos, and even your custom presets with anyone, anywhere and any app. It's not just about editing; it's about sharing your vision and creativity with the world.
Darkroom is more than just a tool; it's a gateway to expressing your creativity and sharing your story with the world. Serious or amateur, every mobile photographer has a home here.
---
Frequently Asked Question
What does a Darkroom+ Yearly membership cost?
In the United States the Yearly membership costs $32.99 ($2.75 per month), and is currently being offered at a 50% discount for the first year. So instead of $32.99 it will be $16.49. After the first year the membership will automatically default back to the normal pricing.
Be aware that prices vary per country, listed below are the prices for the United States. We recommend going to our app store page to see the exact pricing for your specific country.
Can I use my Darkroom+ membership across my Apple devices?
Yes, as a Darkroom+ member, you can use it on multiple devices. There is no need to purchase or subscribe to Darkroom+ multiple times. However, please ensure that you log in on all devices using the same App Store account that you used to make the initial purchase.
Does this discount apply to Darkroom Legacy customers?
Yes, we learned from last year's mistakes and ensured that this discount is also available to our Legacy customers. Please make sure to update to the latest version of Darkroom (6.6.3) to access the Black Friday Week Offer. Considering the substantial discount offered in the first year, we didn't find it necessary to provide any additional special discounts. On average, Legacy customers paid approximately $8 for all their features. With this year's Black Friday Week discount, we are now offering a $16 discount on the first year.
Is the Darkroom+ Forever option discounted?
No. We are only offering this year's Black Friday Week discount for our annual membership. The one-time forever membership option already includes a substantial discount considering the length of time and loyalty our customers typically have towards our product.